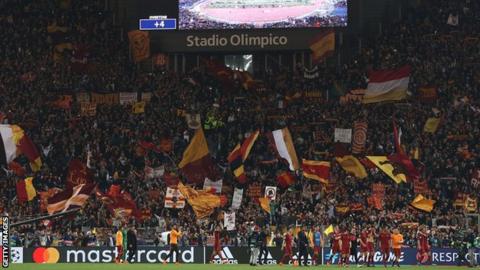 When Liverpool were drawn to face Roma in their Champions League semi-final, Reds fan Rob Trotter had already made his mind up.
Having suffered an "intimidating" visit to the Italian capital in 2001 where he saw Liverpool supporters slashed with knives and hit with chains, he, like many fans, decided not to attend the away leg in Rome on Wednesday.
His team might be on the verge of reaching an eighth European Cup final, but after Liverpool fan Sean Cox ended up seriously injured in hospital following an attack by a group of Roma fans outside Anfield last Tuesday, Trotter has had a dozen calls offering him tickets.
It was the latest in a long line of incidents involving Roma fans, stretching back to Liverpool's trip to Rome for the 1984 European Cup final, where fans were attacked after their team won on penalties.
Since then supporters from Leeds, Middlesbrough, Manchester United, Arsenal and Tottenham have all been targeted, albeit by a small minority of supporters.
Stabbings in the buttocks have been common, while reports of fans wielding hammers, belts and axes have led to some Liverpool fans reportedly hiring personal security for the trip.
So who is responsible for these attacks and why do they keep happening?
'It's the one time I thought we are in real trouble here'
Like many fans, Roma's American owner James Pallotta has been quick to condemn the incident at Anfield, but attacks in Rome have been regular, severe and not limited to English supporters.
"There have been plenty of cases with English teams but also other European clubs," says Italian journalist Vieri Capretta. "I remember with Feyenoord a few years ago in the Europa League and the Coppa Italia final in 2014 [held in Rome] when a Napoli fan was shot and killed. Roma weren't even playing."
Then there are some customs for greeting opposing fans that are unique to the city.
"Rome is the city of 'puncicata', the flash stabbing in Roman slang, often directed at the buttocks of fans who pass by the Ponte Milvio, or the Milvio Bridge," says a former Roma 'ultra' Pierluigi Spagnolo.
"It's a ritual, a bad ritual, that Roma ultras repeated also against Italian fans. That bridge is suited to ambushes."
During Trotter's trip to Rome seventeen years ago for a Uefa Cup tie, six Liverpool fans were stabbed, and he says he witnessed attacks throughout the day.
They included one Liverpool fan having the back of his jacket slashed with a craft knife by a man on a moped, being pelted with coins and bottles of urine during the game and then running into trouble after being left in the stadium for two hours.
"We tried to jump in a taxi back to town, but suddenly about 10 Liverpool fans came back down the road – some were bleeding, others had torn jackets," he says. "They'd been hit with chains and all sorts and with no police around, it's the one time I thought we are in real trouble here.
"Luckily, we got back to the stadium and then managed to get seven of us in a guy's BMW 3 series. We were lucky, really. One of the lads got hit by a brick. As soon as we drew Roma, I thought 'I'm not going'."
Who is responsible?
Often when these attacks occur, the finger of blame is pointed at the club's ultras – a hardcore group of fans who dominate a large section of the Stadio Olimpico called the 'Curva Sud' or the south curve of the stadium.
But the real story is a lot more complex, says Matteo Ciampani, a Roma season ticket-holder and the co-founder of the UK Roma fans' club, who says the club's fans are some of the most passionate in the world.
He says that although ultras have immense power, illustrated by the way they brought the 2004 Rome derby to an end, there are many factions among them, in competition to prove who is top dog.
"The attack on Sean Cox has brought shame on the club at time when the team is doing so well, and I know many guys on the Curva Sud – 100% they would not want to see what happened at Anfield," he tells BBC Sport.
"It's not about being part of the ultras, it's more about those who want to make a name for themselves.
"Some of the supporters' clubs believe they are more important than the team itself, and they used to be more united. They don't agree with each other at times, and now they are in a difficult position because some groups are condemning what happened last week, while others are defending it.
"Usually it is the younger guys who are involved. They have grown up watching or listening to stories of hooliganism in the past, and have decided that being involved in clashes or having a scar can be seen as a medal of honour.
"If you stab someone it can be something you tell your friends, which is obviously wrong and would only happen in the most extreme part of the Curva Sud. You are talking about a minority."
There are also suggestions that those involved in the attack on Cox might have been banned from attending Roma games, so seek to cause trouble elsewhere in the city or on trips abroad.
"Some fans are just going for the trouble," Ciampani adds. "We don't know if the ones who committed the attack on Sean Cox even had tickets for the game."
Why does it keep happening?
"Ultras sections mirror society," says Spagnolo. "A big, hard, and turbulent city like Rome is reflected in the ultras stands of Roma and Lazio too, which is smaller but has the same difficulties.
"We shouldn't criminalise all Roma fans, but unfortunately in a stadium of 60,000 people, there are some who always look for violence."
According to James Horncastle, a journalist who writes about the game in Italy, some of the perpetrators may justify their actions by "looking up to Roman gangsters, hoods and thugs from the 18th and 19th Centuries, who used to get involved in knife crime and glamorise it".
Attempts have been made to quell fan violence in Italy, especially since the 2007 Sicilian derby between Catania and Palermo where a police officer was killed.
Since then, there have stricter laws aimed at preventing violence at stadiums, but a knock-on effect has been more incidents occurring in the city of Rome – including an attack on Tottenham fans in 2012, when several fans were stabbed by Roma supporters even though Spurs were playing city rivals Lazio in the Europa League.
Ciampani also believes that English fans are a target because of their historic connections to hooliganism in the 1970s and 1980s.
That period includes the 1985 Heysel Stadium disaster, where 32 Italians were among those killed when a stampede by Liverpool supporters led to a wall collapsing before their European Cup final against Juventus.
Some of the English hooligan culture of that era has since been glamorised in films such as Green Street and The Firm, based on the activities of groups like West Ham's 'Inter City Firm'.
"In the minds of some Italians, English fans represent the true supporter," he says. "On one hand, you think of the atmosphere we saw at Anfield during the first leg, but some also think about movies about West Ham fans.
"It creates a culture about what hooliganism can be and they like to dress up like the guys in the movies. There is an ideal for the young fans to follow."
Can the violence be stopped?
Ciampani believes that tighter controls on fans at Stadio Olimpico and surveillance cameras on the Curva Sud have improved security at Roma.
But he was surprised by the lack of police in attendance at Anfield and believes that security is not as stringent for European games.
He cites an episode when he went to a game at Bayer Leverkusen in Germany, when Roma fans were told to walk through an unlit park, where an ambush could have been "easy".
"I would like to see more control on Uefa games," he says. "When I see the video of the attack in Liverpool, I'm asking why there are no police at all, especially at the Kop where the Liverpool fans are based."
For attacks within Rome, more police seems to be the answer. Amid fears that Liverpool fans might take revenge for Cox's attack, 1,200 Italian police are set to take to the streets.
Public order commissioner Giorgio Luciani told BBC Sport: "We can guarantee the safety of Liverpool supporters if they respect the rules and make the day as normal as they can."
Trotter fears that despite advice to take official buses and arrive early at the stadium, some Liverpool fans will want to tread their own path.
"As much as I would like to think Liverpool fans will only drink in places they should and get buses that they should, they don't," he said. "People won't want to get there three hours before the game, so some people will go on the wrong routes."
However, Ciampani says: "Roma fans don't want a repeat of what happened at Anfield. People were queuing for 36 hours for a ticket, and there will be lots of families. They are not the ones who want to fight or cause trouble.
"There are lots of similarities between the two clubs and both have passionate fans, so we should embrace that and be able to enjoy a moment which is important for two beautiful attacking teams on such a big stage.
"We should show the whole world that there is no room for violence."