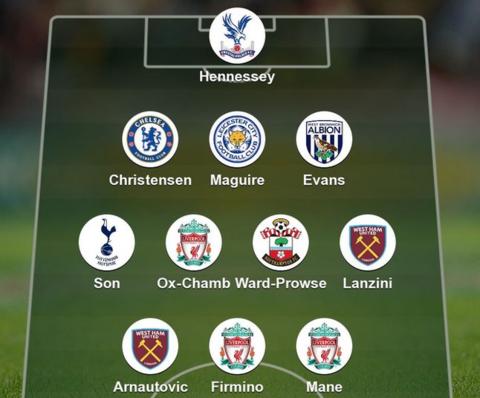 It had to come to an end at some point, and it was Liverpool who finally put a stop to Manchester City's unbeaten run with a classic 4-3 win at Anfield on Sunday afternoon.
It was also a good weekend for my old club Tottenham in the chase for a top-four place, their resounding 4-0 win over Everton coming as rivals Chelsea and Arsenal both dropped points.
Arsenal were poor again in losing at Bournemouth, while Chelsea looked short of ideas in a goalless draw with Leicester.
At the bottom there were much needed wins for West Brom, Crystal Palace and West Ham.
You can read the thinking behind my team below but, first, have a go at picking your own team of the week.
Choose your XI from the shortlist selected by BBC Sport journalists and share it with your friends.
Pick your XI from our list and share with your friends.
Goalkeeper – Wayne Hennessey (Crystal Palace)
This was a very interesting week for goalkeepers. Arsenal's Petr Cech and Manchester City's Ederson both conceded goals that cost their teams dearly. Chelsea's Thibaut Courtois and West Brom's Ben Foster both kept clean sheets but it was the performance by Wayne Hennessey against a dangerous Burnley that impressed me the most.
The Wales international's form over the past few weeks has been impressive at a very difficult time under Roy Hodgson. The Eagles were in desperate need of points and low in confidence. Hennessey has shown tremendous courage throughout that period and kept goal during a very nervy time for Palace. He now looks like he's becoming part of a solid unit again, keeping the occasional clean sheet.
Defender – Andreas Christensen (Chelsea)
Andreas Christensen came on for Gary Cahill at a time when the Blues were being run ragged by a Leicester side who seem to have found their mojo again under Claude Puel.
He adjusted brilliantly to the tempo of the game and was incredibly astute not to impede Riyad Mahrez in the box. The Algerian international, on the other hand, tried to deceive referee Mike Jones by going to ground having received no contact from Christensen at all. In fact it was Mahrez who used his leg to make contact with Christensen. Referee Jones was, quite rightly, having none of it, while Christensen told Mahrez what he thought of his opponent's antics in no uncertain terms.
I can understand a player going to ground having received contact or even exaggerating the incident in order to try and bring it to the referee's attention. Goodness knows I've done it myself, but it is unforgivable to dive when no contact has been made at all. In fact it is simply cheating and it's about time his manager told him so.
Defender – Harry Maguire (Leicester)
We don't often get excellent 0-0 draws but Chelsea versus Leicester was certainly one of them. This was a Premier League fixture played like an FA Cup tie from start to finish. Harry Maguire was immense throughout the match at the back for Leicester and he had Alvaro Morata in one pocket and Eden Hazard in the other.
In the post-match news conference interest once again centred on the war of words between Manchester United manager Jose Mourinho and Chelsea boss Antonio Conte. Although no names were mentioned, Mourinho's earlier veiled remark about 'contempt', which seemed to be pointed in Conte's direction, clearly grated with the Italian. However the Chelsea manager did well to ignore the questions posed by journalists. He has spent far too much time responding to Mourinho and his mind games. It is becoming clearer by the day that Mourinho is doing this deliberately.
The former Chelsea boss has been irritatingly astute at taking the attention away from the fact that his team have failed to lay a glove on Manchester City and he is using Conte as the diversion. Every time Conte bites back it diminishes the former Itay international who, having played the game at the highest level, respects its customs and traditions. Mourinho on the other hand shows no respect to either of those conventions because he is a mere beneficiary of the game and gives nothing back in return.
Defender – Jonny Evans (West Brom)
Considering the speculation surrounding the future of Jonny Evans his goal celebration against Brighton seemed to suggest that the Northern Ireland international is quite happy where he is. It may be that Alan Pardew has to sell him before he is allowed to buy in the transfer window but it strikes me that the defender's response to his brilliant header was so joyous that it would take an awful lot for him to leave. He clearly has a tremendous amount of affection for the club.
It is also clear to me that Pardew is developing a team again at The Hawthorns. The camaraderie and spirit displayed after both goals was there for all to see. The Baggies are also starting to play a brand of football that belongs in the 21st Century again and their players look like they are enjoying it.
Whatever happens to Evans in the future, he has been a model professional and he deserves the game's gratitude.
Midfielder – Son Heung-min (Tottenham)
Son Heung-min scored one, assisted another and hit the post against Everton but his performance was about more than that. The South Korean is renowned for his energy and covers the ground with enormous alacrity. What I like most about him is that he genuinely plays the game with a smile on his face. I've never really had any time for the expression myself, largely due to the fact that trying to win a football match was always such hard work. Playing the game and looking like you were enjoying it when in fact you were trying to win didn't make any sense to me.
Son, on the other hand, has a smile that would light up Wembley stadium all on its own. I get the impression sometimes when he plays for Spurs that he is so grateful to be playing at Tottenham at all. I have said before that I think Son is one of the most improved players in the Premier League and against Everton he proved it once again.
As for Everton, Sam Allardyce will not be happy conceding four goals. Training will not be enjoyable this week.
Midfielder – Alex Oxlade-Chamberlain (Liverpool)
I'm delighted to see this player finally starting to settle down in his new role at Liverpool. I was a big admirer of this young emerging talent when he was at Southampton and expected even bigger things from him at Arsenal. However what I saw in Alex Oxlade-Chamberlain's performance against Manchester City was a player who believed in himself again. So much so that the England international went toe to toe with Kevin de Bruyne and came out on top.
I've no doubt his glorious strike that put Liverpool ahead went a long way to calming the nerves and sharpening the focus. The big question now is can Oxlade-Chamberlain step into Philippe Coutinho's shoes? With Steven Gerrard retired and Coutinho now playing for Barcelona, Anfield demands another midfield star. Oxlade-Chamberlain has the ability and now the stage to be that star in a way he never had at Arsenal. I wonder if he will seize the opportunity.
Midfielder – James Ward-Prowse (Southampton)
If looks could kill, Marco Silva would be in big trouble. The stare the Watford boss gave his players when they went 2-0 down to Southampton in the first half was chilling. He had every right to be furious about the way his team was defending. Ever since Silva was touted to take over from Ronald Koeman at Everton, Watford seem to have fallen apart.
This time it was Southampton's James Ward-Prowse who was intent on embarrassing the Hornets and had it not been for an error by referee Roger East, in allowing a goal by Abdoulaye Doucoure, he would have done. To be fair to Mr East he couldn't possibly have seen the handball by Doucoure from his position and he was let down by his assistant. So here we are again flung headlong into the debate about video technology assisting the officials.
I am no fan of VAR in football (it might work in other sports) but I have no doubt that it would have cleared up this particular incident.
Midfielder – Manuel Lanzini (West Ham)
Manuel Lanzini has been promising to take over the mantle of Dimitri Payet – remember him? – for some time and his performance against Huddersfield was as close as he has come. The skilful Argentine was like a sorcerer's apprentice weaving his magic and left the John Smith's stadium with the Terriers still under his spell. What was so impressive was the way Lanzini, with West Ham already 3-1 up, raced 40 yards to support Marko Arnautovic in order to administer Huddersfield's last rites.
The finish was equal to the work and endeavour the player put in throughout the match. The only problem I can foresee is that if Lanzini keeps playing like this, how long before Chelsea come knocking on the door? Cesc Fabregas is not getting any younger you know.
Forward – Marko Arnautovic (West Ham)
Mark Hughes must be seething. The fomer Stoke boss will know better than most what Marko Arnautovic is capable of. It was, after all, the Austrian who drove a dagger through Hughes' heart by leaving the Potteries in an acrimonious split in the summer only to return with West Ham and hasten the departure of Hughes with a starring display in a Hammers win, with a goal just to stick the boot in.
In recent weeks at West Ham the forward has discovered a new lease of life and seems to get better with every performance. He absolutely destroyed Huddersfield, who have been praised this season but are starting to run out of gas. When your defence fails to win the first ball that's bad enough but when you don't get the second and even fail to get the third, in one phase of play, then immediate surgery is required.
Manager David Wagner has performed wonders at Huddersfield but they need reinforcements now. As for Arnautovic, well if you can get Andy Carroll, Lanzini and him on the pitch and playing well all at the same time then the Hammers suddenly become a serious proposition. In the meantime it looks like West Ham and David Moyes are back in business.
Forward – Roberto Firmino (Liverpool)
When a close team-mate leaves a club it can feel like you've sustained an injury and it can take a little time to recover. Roberto Firmino would have been devastated to see Coutinho leave Liverpool for Barcelona, and said as much. But you wouldn't have known it looking at his performance against Manchester City.
In fact I think I saw the Brazilian assume far more responsibility in the absence of his former team-mate than I have seen before. With Mohamed Salah, Sadio Mane and Firmino in the side all that is required is for Oxlade-Chamberlain to start hitting the back of the net on a regular basis and a new fab four will be born.
Forward – Sadio Mane (Liverpool)
Sadio Mane's strike was glorious and it should have put the game way beyond Manchester City's reach – but this was no ordinary game and Manchester City are no ordinary team. Five minutes longer on the clock and City would have equalised.
Sadio Mane may not be having the same goal return as last season but he is working incredibly hard to make up for it. In fact I can't remember seeing Mane work as hard. Of course manager Jurgen Klopp built his reputation on such endeavours at Dortmund, but he had a defence then.
Once again Liverpool went perilously close to blowing a great victory over City because of suspect defending. I know injuries to players are unfortunate but Liverpool need Virgil van Dyke fit and back in the team sharpish otherwise there will be many more games finishing 4-3, and not necessarily in Liverpool's favour.