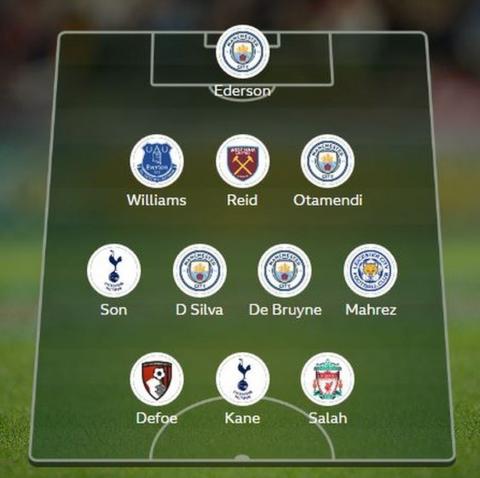 What a huge weekend of football and what a massive result for Manchester City.
The league leaders moved 11 points clear with a 2-1 win at their closest challengers Manchester United.
In Sunday's other derby, Liverpool were pegged back by Everton thanks to Wayne Rooney's penalty, much to manager Jurgen Klopp's displeasure.
Arsenal and Chelsea failed to take advantage with a draw against Southampton and a defeat by West Ham respectively.
Elsewhere there was yet another victory for high-flying Burnley while Swansea climbed off the bottom with a win over West Brom.
You can see the thinking behind my team below but, first, have a go at picking your own team of the week.
Choose your XI from the shortlist selected by BBC Sport journalists and share it with your friends.
Pick your XI from our list and share with your friends.
Goalkeeper – Ederson (Manchester City)
What a double save by Ederson to deny Romelu Lukaku and Juan Mata in quick succession in the closing stages of the Manchester derby.
Last week David de Gea made a similar double save that gave United the points at Arsenal. This week it was Ederson.
The first save hit him in the face, but the speed at which the Brazil keeper recovered to make the second save from Mata was incredible.
I also noticed in the first half that the City keeper was absolutely brilliant when manipulating the ball with his feet.
This allows him to play in a way that helps his team retain the ball – the reason behind manager Pep Guardiola making Joe Hart surplus to requirements.
This was a fabulous performance by City but I am in no doubt that, as good as they were, Ederson's double save was the turning point in this fixture.
Eight away wins out of eight and 11 points clear at the top suggests the title race is over.
Defender – Ashley Williams (Everton)
I took one look at Everton's line-up against Liverpool and immediately thought there was no way they could possibly survive at Anfield.
A back four of Cuco Martina, Ashley Williams, Mason Holgate and Jonjoe Kenny surely could not keep Mohamed Salah and Sadio Mane at bay.
Well, the four of them did struggle at first but, with the help of midfielder Idrissa Gueye, they kept their team in the hunt.
At the heart of that defence was Williams who, yet again, was magnificent.
I simply can not accept that an Everton side managed by Sam Allardyce's predecessors Ronald Koeman or David Unsworth could have pulled such an impressive result out of the bag.
In fact I can not believe it is practically the same team I saw cave in 4-1 at Southampton at the end of November.
All credit to Alladyce. He has got Everton players young and old back on track and it is very impressive.
Defender – Winston Reid (West Ham)
I have seen this lad have some wonderful games for the Hammers but I've also seen him completely lose it.
Against Chelsea it could have gone either way but, fortunately for manager David Moyes, Winston Reid kept it all together.
Boy, did they need him.
Worthy mentions too for Michail Antonio, who ran until he literally dropped, and Arthur Masuaku, who played like a dream.
However neither of them defended the cause like Reid.
If there was a block to be made or a header to be won, Reid made it.
West Ham were desperate for the points. To get them against the champions must have felt like winning the lottery.
Defender – Nicolas Otamendi (Manchester City)
Five goals in his last 15 appearances for City can not be a coincidence.
I have had mixed views about this defender since he arrived at the club, but he has already made my Team of the Week this season.
With a finish worthy of a top striker in the biggest Manchester derby for years, he has done so again.
There have been many times when I thought he was far too impetuous and his positional sense was often suspect.
But the 79th-minute incident involving Ander Herrera and Otamendi was a clear indication of the growth in the player.
Otamendi in the past would have dangled a leg and given away a penalty. This time he refused to take the bait.
Herrera's dive was as pathetic as it was desperate and deserved the booking he received.
United boss Jose Mourinho can complain all he wants about referee Michael Oliver's decision not to give a penalty, but the real issue is that United were outclassed and the better side won.
Trying to deflect that issue will not wash with those who understand the game. And nothing other than that fact should be occupying Mourinho's mind at this moment.
Midfielder – Son Heung-min (Tottenham)
He set up the first goal, scored the second and then went on to completely run the show.
The South Korea attacking midfielder has scored four goals in nine league starts for Tottenham this season and could quite easily have added to that tally.
Stoke City's performance, on the other hand, could be described as abject at best.
Why wouldn't players want to put on one hell of a show at Wembley?
It is after all, as one Italian football fan once told me, the 'temple of football'.
I couldn't help feeling that too many Stoke players are on easy street, particularly away from home.
They wouldn't dare perform with such an appalling lack of alacrity at the Bet365 Stadium because the fans would have the players and, more to the importantly, Mark Hughes' guts for garters.
Travelling Stoke supporters deserve more in effort and passion from their team and it is Hughes' job to instil it.
Such banal platitudes in his post-match interview such as "if you open up against the top teams they have the ability to hurt you" is this century's greatest understatement and quite frankly pathetic.
Is that all Stoke fans can expect to hear from their manager, on top of a humiliating defeat, when they go away from home and get beaten 5-1?
I must say I don't recognise that man.
What happened to the firebrand footballer who would face anyone anywhere and the boss who stood up to other managers with bigger reputations? Can I have him back please?
Midfielder – David Silva (Manchester City)
I don't think I have seen this man play with the same fire and determination as I have these past few weeks.
I said recently that David Silva was going in where it hurts.
If he has been asked by Pep Guardiola to increase his goal tally, and there is no reason why he can't, then he is doing it with great gusto.
Silva is finding himself in the six-yard box with greater regularity and converting half-chances into goals.
I never thought Guardiola could create another Xavi but Silva has become that player.
Midfielder – Kevin de Bruyne (Manchester City)
This was a top-class performance by Kevin de Bruyne in a different way than I have seen from him this season.
I know he can pass the ball brilliantly, strikes the ball as cleanly as Tiger Woods hit a golf ball and has a great eye for goal.
But on Sunday, De Bruyne tracked back, put his foot in, made challenges and even took a couple of smacks in the mouth.
That is what most defenders have to do on a weekly basis, but because they have an amazing team City tend to have the ball at their feet more often than not and do not have to do the normal fetching and carrying.
However this was a Manchester derby, and you've got to be prepared for physical activity.
De Bruyne also will have known that a victory against United would tighten their grip on the Premier League title to such an extent it would take something quite unique for United to take it from them.
So taking the occasional smack in the mouth was more than worth it.
Midfielder – Riyad Mahrez (Leicester)
Since the arrival of manager Claude Puel, who has a reputation for getting star players who have lost their shine to glisten again, Riyad Mahrez has looked something like the player who won the PFA Footballer of the Year in 2015/16.
His pass to Marc Albrighton for Demarai Gray's goal cut Newcastle to ribbons.
Mahrez then forced a great save from goalkeeper Karl Darlow before he stole the ball in midfield and set his side free on a raid that finished in the back of the Newcastle net.
Puel was quick to state this victory over the Magpies was not one of his team's best performances, but I saw elements of the same vigour and excitement that were evident when they won the Premier title.
Will we ever see the like of that again?
As for Newcastle's third consecutive defeat, how long will it be before Rafa loses patience and packs his bags?
Forward – Jermain Defoe (Bournemouth)
What a good game of football this was between Crystal Palace and Bournemouth.
Penalties all over the place, chances going begging and senior players doing precisely what they wanted to.
And amid all the chaos, Jermain Defoe scored his 200th league goal. Actually I preferred his 201st.
It was an absolute beauty. Defoe has struggled since his arrival from Sunderland, but his two goals against Palace suggest the England striker is back on track.
Referee Kevin Friend gave two penalties – both of which I thought were fair. Goalkeepers are like defenders, once they go to ground they must win the ball cleanly, otherwise they run the risk of committing an infringement.
The issue surrounding Palace's second penalty, which was missed by Christian Benteke, was alarming.
When I saw Benteke take the ball from Luka Milivojevic, who had scored the first penalty, I put my head in my hands.
Not because I don't rate Benteke, but because he is not yet on top of his game.
We have all been there when we have been struggling for form and think that a goal might change everything.
What a false premise that is. Form is only fixed on the training ground and not via a cheap penalty.
Certainly not via the excessive pride and ambition that usually leads to the downfall of a hero in classical tragedy. Need I say more?
Forward – Harry Kane (Tottenham)
I hope this performance by Spurs is the beginning of their rehabilitation heading into the Christmas period.
They have not really performed in the Premier League since their victory against Real Madrid in the Champions League at the start of November.
Stoke City provided the right sort of fixture for Tottenham to shake themselves out of this malaise and get themselves going again.
At least Harry Kane looked more like himself. The England centre forward could and should have had a hat-trick but under the circumstances two excellent finishes will do.
I have made my feelings known about Stoke City's performance and their manager very clear. However Tottenham's manager Mauricio Pochettino also needs to take note.
Arsene Wenger took a swipe at Pochettino recently claiming the Tottenham manager may have given up on the Premier League title but the Arsenal manager had not.
Such statements by the Spurs boss are dangerous. If you are not chasing the Premier League title, then what exactly are you chasing and what are you telling your players before matches?
Forward – Mohamed Salah (Liverpool)
How Liverpool didn't knock Everton clean into Stanley Park I will never know.
They took the lead with another moment of magic by Mohamed Salah – and that should have been the knock-out blow.
However Liverpool lacked sufficient ruthlessness and that was no better illustrated than when Sadio Mane put himself and glory first instead of the team.
A simple square pass from the Senegal winger to either Alex Oxlade-Chamberlain or Salah, who were waiting to convert, would have put the game out of Everton's reach.
Liverpool had far too much quality on the ball for their neighbours but with only one goal separating the teams it just needed the slightest mistake by Klopp's side to let points slip.
However what I don't understand is why Dejan Lovren needed to put his hands on Dominic Calvert-Lewin at all, when he gave away the penalty from which Everton levelled.
The last thing an experienced defender should be doing is giving a striker any excuse to go down in the box.
To see Lovren then approach the referee after the final whistle to confront referee Craig Pawson can only be described as the behaviour of the blindingly stupid.
Having already lost his team two valuable points due to an unnecessary challenge, the last thing Liverpool wanted was the situation compounded with their Croatia defender sent off for confronting the referee.
Fortunately captain Jordan Henderson saved Lovren further punishment for his stupidity.