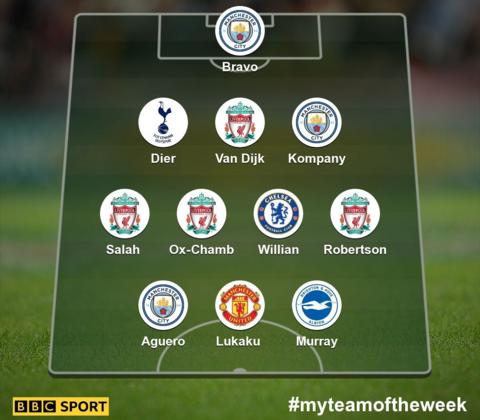 Manchester City won their first piece of silverware under Pep Guardiola with a comprehensive 3-0 win over Arsenal in the Carabao Cup final, hours after Manchester United beat Chelsea 2-1 to go back into second place in the Premier League.
But who shone enough to make my team of the week? Read the thinking behind my team below and have a go at picking your own.
Choose your XI from the shortlist selected by BBC Sport journalists, and share it with your friends.
Pick your XI from our list and share with your friends.
Goalkeeper – Claudio Bravo (Man City)
When a team knows it is playing its second-string goalkeeper in a cup final, nervousness can cut through it like a knife. The way Claudio Bravo handled the occasion against Arsenal was more than impressive. I think a Manchester City Treble might be on here, folks.
Defender – Eric Dier (Tottenham)
It's been a long time since I've seen such a comprehensive performance by Eric Dier. He had Christian Benteke and Alexander Sorloth on toast in Tottenham's win at Crystal Palace. I'm beginning to think centre-back is Dier's best position and he should stay there.
Defender – Virgil van Dijk (Liverpool)
I expect Liverpool to score goals because of the way manager Jurgen Klopp sets them up. They are as exciting at home as Manchester United are dull under Jose Mourinho at Old Trafford. However, Virgil van Dijk has provided Liverpool with a stability in defence that was desperately lacking. What took them so long?
Defender – Vincent Kompany (Man City)
Vincent Kompany playing in a Manchester City side and winning trophies again after a catalogue of injuries was a sight worth seeing. If ever a player deserves a finale to his career after battling back to fitness on countless occasions, it is Kompany. A rock-solid certainty to be in City's all-time XI.
Midfielder – Mohamed Salah (Liverpool)
I just can't leave him out. Mo Salah scored for the sixth consecutive game in Liverpool's win over West Ham, who ended up taking one hell of a beating. Hammers boss David Moyes thought his side played all right in the first half, but it was the second half when they got ripped to shreds.
Midfielder – Alex Oxlade-Chamberlain (Liverpool)
It's starting to happen. Alex Oxlade-Chamberlain is beginning to look like a player again. There is no fear of the big stage in this lad. I think the only thing that is frightening about this player is just how good he could be at Anfield.
Midfielder – Willian (Chelsea)
This lad was outstanding against Barcelona in midweek, and again against Manchester United at Old Trafford. But manager Antonio Conte is losing it. The Chelsea boss brings off Eden Hazard (his star man) when Alvaro Morata is having a nightmare, and Conte wonders why he lost the game.
Midfielder – Andrew Robertson (Liverpool)
He's started 13 out of Liverpool's past 14 league games, which speaks volumes for the lad. The quality of his crosses against West Ham would have drained the blood out of vampires.
Forward – Sergio Aguero (Man City)
Arsenal were absolutely destroyed in the Carabao Cup final, and it all started with Sergio Aguero bullying Shkodran Mustafi from a goal-kick. I remember the days when strikers were terrified of centre-backs. What happened?
Forward – Romelu Lukaku (Man Utd)
Manchester United might be getting results but the quality of their performances, especially at Old Trafford recently, have been rubbish. Hardly surprising when you leave Marcus Rashford and Jesse Lingard out of the starting line-up at home. United fans must be getting very frustrated with these performances, but against Chelsea it was just as well Romelu Lukaku came to the rescue in more ways than one.
Forward – Glenn Murray (Brighton)
Brighton took three massive points against Swansea, won by the cool dexterity of a 34-year-old striker who struggles to run. Glenn Murray possesses a calm brilliance to his game in front of goal, which has almost certainly provided Brighton with a second season in the Premier League. Well, I got that wrong.