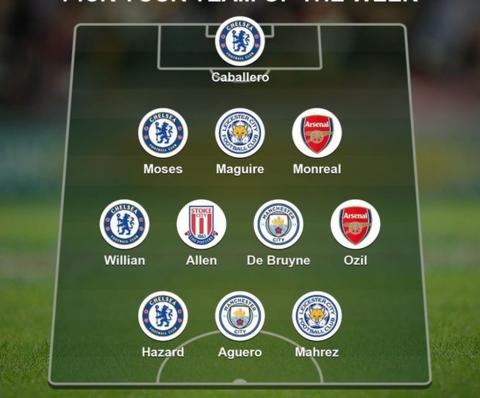 Normal service resumed for leaders Manchester City, who swept past Newcastle thanks to a Sergio Aguero hat-trick in the wake of their first league defeat of the season last weekend.
Arsenal made light of the absence of Manchester United-bound striker Alexis Sanchez as they dispatched Crystal Palace, while United squeezed past Burnley at Turf Moor.
All of which was bad news for Tottenham, who lost ground on the leading pack with a draw at Southampton.
Paul Lambert marked his first match in charge of Stoke with a win to move the Potters out of the relegation zone.
You can read the thinking behind my team below but, first, have a go at picking your own team of the week.
Choose your XI from the shortlist selected by BBC Sport journalists and share it with your friends.
Pick your XI from our list and share with your friends.
Goalkeeper – Willy Caballero (Chelsea)
Chelsea were very lucky to get away with two penalty shouts against Brighton, with referee Jonathan Moss deciding not to give either. Both were potential game-changers for Brighton, but they were still outclassed. Caballero was particularly impressive in goal and made a sensational save from a Tomer Hemed header down to his left. The Argentine also played extremely well in Chelsea's FA Cup replay against Norwich in midweek – saving a penalty – and generally seems to be in sparkling form.
First-choice goalkeeper Thibaut Courtois is out with an ankle injury but the way Caballero has performed must have manager Antonio Conte considering sticking with the South American in the short term.
What Caballero has given Chelsea, and Conte for that matter, is options. The Blues are fighting on a number of fronts and next face Arsenal on Wednesday in their Carabao Cup semi-final. Should that game go to penalties, Caballero will have the psychological advantage and the penalty-takers will know that.
However, what is abundantly clear is that when Courtois is fit again, Chelsea will have two top-class goalkeepers to choose from. That's not a bad problem to have.
Defender – Victor Moses (Chelsea)
I must say this lad looks like he's enjoying his football at the moment.
He seemed to be involved in almost every raid Chelsea made down their right-hand side against Brighton, and it was Moses' timely cross which caused sheer panic in Brighton's defence, allowing Eden Hazard to capitalise with a thunderous shot past Mathew Ryan.
If Moses wasn't darting down the wing in his short-sleeved shirt and woollen gloves, he was flying across the far post trying to put the finishing touch to another piece of Hazard magic.
The wing-back was as superb in attack as he was in defence and took his goal brilliantly. Here is another Premier League player who, fitness willing, is due to feature in the World Cup this summer.
From what I can see, he's giving Chelsea everything on the field at the moment and saving nothing for Russia.
Defender – Harry Maguire (Leicester)
Maguire was resolute against Chelsea a week ago, and equally impressive in Leicester's defeat of Watford.
It was the astute Maguire who immediately appealed for offside the moment the ball went forward from Abdoulaye Doucoure's flick-on for Troy Deeney to score.
The decision was tight, but the England defender was as sharp as a razor to spot the infringement. Such moments can provide assurance for assistant referees that they are right.
I was also immensely impressed by Maguire's recovery to block what would have been an equaliser from Andre Gray had the defender not made it.
As for Watford, their results have dipped in recent weeks but nevertheless they produced a decent performance against Leicester without having anything to show for it.
To sack manager Marco Silva for responding to Everton's interest in him prior to Sam Allardyce taking the job is quite extraordinary.
There was no sign whatsoever that Watford's players had downed tools against Leicester, and this continuous sacking of managers by the club's executives is in danger of making this particular job look like a poisoned chalice.
In the meantime, I wish new manager Javi Gracia every success. Just don't drink the wine!
Defender – Nacho Monreal (Arsenal)
Whenever I've selected this player, it is usually because he's scored a goal. However, it would be grossly unfair of me to limit Nacho Monreal's qualities to his ability to occasionally put the ball in the back of the net.
The Spaniard has been a pivotal defender for Arsenal for some years now, and his all-round game can only be described as infectious. I've described him before as a defender who plays as though his life depends on it, and so it proved against Crystal Palace.
The visitors were blown apart largely by the sheer opportunism of Monreal during 13 quite extraordinary minutes.
Monreal scored from a header having left James McArthur picking his nose. The full-back then took complete advantage of Timothy Fosu-Mensah's desperate clearance and laid his pass on a plate for Alex Iwobi to make it 2-0. Then, from another set-piece, Monreal brushed McArthur aside yet again to provide another assist – this time for Laurent Koscielny. Game over.
Midfielder – Willian (Chelsea)
The link-up play between Hazard and Willian, with the occasional touch of inspiration from Michy Batshuayi, was just superb against Brighton.
And the finish by Willian was just sensational. The Brazilian is playing out of his skin at the moment, which is just as well considering Cesc Fabregas is out with injury.
Chelsea are not blessed with an inordinate amount of flair. In fact, outside of Hazard, Willian and Fabregas, they are quite ordinary in that department. But then I don't think flair is of any great interest to Conte.
The Italian seems perfectly content to operate on a staple diet of hard work and consistency. That is why he places so much store in N'Golo Kante and Tiemoue Bakayoko. Willian, on the other hand, is an artist. Temperamental, impulsive and totally unpredictable. Isn't it wonderful?
Midfielder – Joe Allen (Stoke)
I'm delighted Joe Allen is grabbing some of the headlines at Stoke.
He was one of the players I thought never threw the towel in under Mark Hughes and he strikes me as a model professional in every sense. Against Huddersfield, under difficult circumstances, he proved it.
A new manager, and more attention than usual, is not the ideal preparation for a must-win game. However, win it Stoke did – and with a performance built on true grit.
We know Paul Lambert was not the club's first choice as manager, but if you can get a response from the players that signifies they are prepared to fight and battle then you can be the 31st choice for all I care.
Allen covers the ground as well as any midfield player in the country and is starting to score the goals his performances deserve.
This was a well-deserved win for the Potters, Allen and Lambert in particular. Well done boys.
Midfielder – Kevin de Bruyne (Manchester City)
This player hasn't made my team of the week for a little while, and I was starting to think he was another who seemed to be suffering from that interminable Christmas schedule.
I know we have the toughest league in the world, and all the best players want to make it here, but we must look after the talent.
I shouldn't have worried. Against Newcastle, De Bruyne was back to controlling matters in the middle of the park again.
I have often wondered what sort of club Manchester City would be if Jose Mourinho was their manager. It was mooted at one stage. I wonder if the likes of De Bruyne would be there at all. Mourinho did, if you remember, sell the Belgian when they were together at Chelsea.
What is even more interesting is to imagine Pep Guardiola managing Manchester United. Now there's a thought. Imagine United playing the sort of expansive football their fans gorged on under Sir Matt Busby and Sir Alex Ferguson, only to be amplified under Guardiola.
Football is nothing if you are not allowed to dream. I just think these two giants have the managers the wrong way round somehow.
City – having Guardiola and De Bruyne – have made the right choice. They are definitely the winners.
Midfielder – Mesut Ozil (Arsenal)
Alexis Sanchez's departure from Arsenal to Manchester United was greeted with almost a celebratory performance by his team-mates. I can't remember the Gunners starting a match with such conviction.
The goal of the game came from Alexandre Lacazette but was set up by the only world-class player left in Arsenal's ranks – Ozil. The move leading up to the goal was beautiful, matched by the only player on the field with the artistry to take the score to the point of embarrassment for Palace.
Roy Hodgson has done a wonderful job in a very short space of time, but many more beatings like this and I fear his Eagles will find themselves plummeting back into the relegation zone, fighting for scraps.
Forward – Eden Hazard (Chelsea)
A little sidestep by Hazard left Lewis Dunk spreadeagled on the deck, Pascal Gross frozen, and three other defenders scrambling to stop the shot. They all failed.
The Belgium international was absolutely brilliant against Brighton. There wasn't a player in the opposition who appeared to get anywhere near him.
I saw Hazard play against Leicester at Stamford Bridge last week when Antonio Conte brought the little genius off after 70 minutes. He was less than impressive against the Foxes, partly due to a punishing Christmas schedule that left him, along with a few others, totally listless.
He returned against Brighton, having been rested against Norwich, and tore them to shreds.
Like machines, if you push players too hard they will eventually break down, regardless of how much you pay them.
Forward – Sergio Aguero (Manchester City)
Regular readers will know how much I think of Sergio Aguero. He is a world-class striker, there is no doubt about that.
You will also now how furious I am that the best striker in the Premier League, in my view, for the past five years has never won a major industry award – no Professional Footballers' Association Player or Footballer of the Year Award.
Against a stubborn but nevertheless inferior Newcastle, the Argentina international got his second hat-trick of the season with some deadly finishing.
The Magpies are performing miracles on the pitch under Rafael Benitez but need reinforcements badly.
Whether owner Mike Ashley decides to sell or keep Newcastle United will ultimately be his choice, but what he does have at the moment is a fantastic manager, a willing group of players and fanatical support.
Are you telling me that is not worth investing in?
Forward – Riyad Mahrez (Leicester)
It's official. The former PFA Player of the Year is back to his best.
We've had to wait some time for the Algeria international to get his game together. In fact, it's come at quite a cost to Leicester.
Two managers and a 'suggested' transfer request to be precise. So what's changed?
Well, it would seem the arrival of Claude Puel has a lot to do with it. Since the Frenchman arrived at King Power Stadium, the form of Mahrez has been impressive and sparked considerable talk about a possible move to Chelsea, Liverpool or Arsenal.
However, with Alexis Sanchez now loading Manchester United's postcode into his sat-nav, I think the Gunners might be Mahrez's best option.
He won't, of course, be the first player to have played for a move, if that is the real reason for his spike in form, and certainly won't be the last. Whatever the reason, the point is he is a top-class player and should be playing with a top-four team.
Puel knows it's only a matter of time.