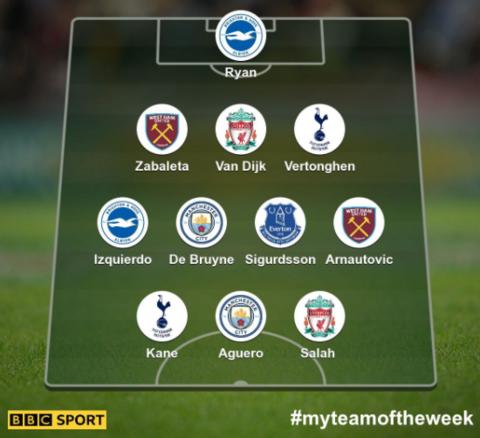 Sergio Aguero scored four goals as Premier League leaders Manchester City beat Leicester, while Newcastle surprised Manchester United to move out of the bottom three.
But who shone enough to make my team of the week? Read the thinking behind my team below and have a go at picking your own.
Choose your XI from the shortlist selected by BBC Sport journalists, and share it with your friends.
Pick your XI from our list and share with your friends.
Goalkeeper – Mat Ryan (Brighton)
What a penalty save by Mat Ryan. Charlie Adam struck it well, but a strong hand from the Brighton keeper delivered the Seagulls a valuable point against a Stoke side in greater need.
Why Jese felt compelled to behave like a spoilt child when denied the chance to take the penalty only served to expose his selfishness. In my view he was lucky to be awarded the spot-kick in the first instance. If Adam is the official penalty-taker then, unless he thinks otherwise, he takes the penalty. Brighton seem devoid of such petulance, but not the kind of heroism portrayed by Ryan.
Defender – Pablo Zabaleta (West Ham)
Zabaleta's days at Manchester City are gone, but this seasoned professional still has a lot left in the tank.
Against the much younger Richarlison, Zabaleta had this young pup in his pocket for much of the game. The Argentine was rock solid against a player who has proved to be very dangerous on occasions this season.
Defender – Virgil van Dijk (Liverpool)
It has not been an easy baptism for Virgil van Dijk, but he is going to be a big hit at Liverpool, I have no doubt.
To go back to your old club and provide such an assured performance as he did against Southampton speaks volumes about the mental capacity of this accomplished defender.
Defender – Jan Vertonghen (Tottenham)
He hasn't played with his chief accomplice – Toby Alderweireld – for a while, however Jan Vertonghen coped admirably without him against Arsenal.
Of all Spurs' defenders, and especially in the absence of Alderweireld, Vertonghen has been the most consistent this season.
Nevertheless, Arsenal still had chances to come away from this north London derby with a point and, to be perfectly honest with you, the Gunners blew it.
Midfielder – Jose Izquierdo (Brighton)
He's only gone and done it again. Admittedly his goal against Stoke wasn't quite as fantastic as his finish against West Ham, but it still left Jack Butland clutching at fresh air.
I had real reservations about the wisdom in Brighton purchasing Izquierdo but he looks like he's starting to acclimatise to life in the Premier League and he certainly has the talent.
Brighton now look odds-on to stay up. However, I hope they don't just become perennial survivors. It's a great place to go and watch a football match. On the odd occasion I do go, I notice their fans are capable of creating a great atmosphere. What I don't understand is why they don't chant Chris Hughton's name during their games more. I really don't get it. If fans don't chant the manager's name every now and then, how do you think he feels?
Midfielder – Gylfi Sigurdsson (Everton)
Everton boss Sam Allardyce made his feelings known about his side's performance against Arsenal last week. They were in a very different mood against Crystal Palace. Gylfi Sigurdsson didn't play against the Gunners but the Iceland international pulled Palace apart with the support of Wayne Rooney.
Allardyce appreciates Goodison Park is a fortress for the team, and just as well because Everton's away form this season has been abysmal.
However, what Allardyce has done is get Sigurdsson playing again. With a little bit of luck, the Everton boss might make a captain out of him. If Allardyce can accomplish that, Everton will have produced something quite special in Sigurdsson, and I dare say their away form might improve as well.
Midfielder – Kevin de Bruyne (Manchester City)
Three assists simply don't tell the whole story of Kevin de Bruyne's contribution for Manchester City against Leicester.
Every generation is blessed with one midfield genius, and De Bruyne is one of the main reasons City already have one hand on the Premier League title.
The quality of his passes into the penalty area for Raheem Sterling and Sergio Aguero were quite frightening. Well, Leicester keeper Kasper Schmeichel found all of them terrifying.
Midfielder – Marko Arnautovic (West Ham)
All players want to be liked, and Marko Arnautovic is no different.
Fans tend not to like Arnautovic because he has the ability to embarrass the opposition. Arnautovic is moody, unpredictable, passionate and exciting all at the same time. Some of that we witnessed against Watford, and to top it all he can, on any given day, cause the opposition great embarrassment. Ask former Stoke boss Mark Hughes.
Forward – Harry Kane (Tottenham)
There can be no doubt about the quality of Harry Kane's headed finish for Tottenham's winning goal against Arsenal.
Kane's ability to retain possession in tight situations and bring his team-mates into the picture was also quite outstanding. Add in his overall work-rate for the team and his goals-per-game ratio and you are left asking yourself: can Spurs really expect to keep this player without winning a trophy in return?
It is therefore incumbent on chairman Daniel Levy to bring in the players who don't merely flirt with the Premier League title but can actually win it.
Spurs have clearly demonstrated in the past two weeks against Manchester United, Liverpool and Arsenal that they can compete with the best. They now have to start winning trophies. The FA Cup would be a good start but to keep the teams like Barcelona, Real Madrid and – dare I say it – Manchester United at bay, particularly in light of a rapidly fading Romelu Lukaku, Spurs must start winning the titles and preferably next season.
Kane deserves nothing less.
Forward – Sergio Aguero (Manchester City)
If this man does not win Footballer of the Year then there is something very wrong with the way we reward our best players.
Granted we have De Bruyne to consider, and Liverpool's Mohamed Salah, and of course Kane will feature in the final line-up. But none of the aforementioned have been as consistent over the past five years as Sergio Aguero.
To think the Argentine's exploits in the Premier League have never been officially recognised either by his fellow players or the football writers. Whenever there are debates about genuine world-class strikers in the Premier League, the one name that is undisputed is Aguero. And it's about time the game acknowledged it.
Forward – Mohamed Salah (Liverpool)
There is just no stopping Mo Salah at the moment. He made Liverpool's first goal against Southampton and scored the second, and that was before half-time. He looks imperious in that Liverpool strip.
I've seen Kevin Keegan, Kenny Dalglish and John Barnes generate extraordinary hysteria at Anfield and it looks like Salah is in that class. I'm not sure who is enjoying his performances more, the player or the Liverpool fans.