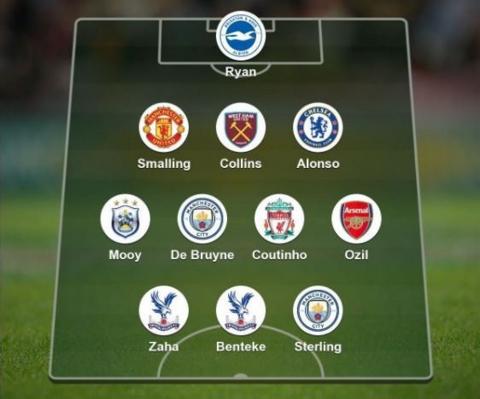 Manchester City's imperious form continued with another hugely impressive win for the runaway Premier League leaders at the weekend.
Pep Guardiola's side showed no signs of relenting in their pursuit of the title, and they swept Tottenham aside 4-1 at Etihad Stadium.
Manchester United remain 11 points behind in second place after they held off a spirited fightback from West Brom to win 2-1 at The Hawthorns.
Chelsea kept in touch with a narrow home over Southampton, while Liverpool crushed Bournemouth.
Arsenal went back into fifth by beating a struggling Newcastle, while surprise package Burnley dropped below the Gunners after they were held to a goalless draw at Brighton.
At the other end of the table, West Ham and Crystal Palace both moved out of the relegation zone with 3-0 away victories – at Stoke and Leicester respectively.
Huddersfield, meanwhile, were thumping 4-1 winners at Watford.
You can see the thinking behind my team below but, first, have a go at picking your own team of the week.
Choose your XI from the shortlist selected by BBC Sport journalists and share it with your friends.
Pick your XI from our list and share with your friends.
Goalkeeper – Mathew Ryan (Brighton)
Mathew Ryan pulled off three saves against Burnley that prevented Brighton from suffering a humiliating defeat.
Brighton need all the help they can get to stay in this league, and when they get penalties, they must convert them. When they don't, and when goals are in short supply, you must have a goalkeeper capable of performing heroics every now and then. That is precisely what Ryan did.
One double save – similar to the stops produced by Manchester United's David de Gea against Arsenal, and Manchester City's Ederson against United – were simply game-changers.
However, what took place in both penalty areas thereafter was quite outrageous. Why James Tarkowski felt the need to give Glenn Murray a dig in the ribs having already fouled him for an earlier penalty is beyond me. The thought of giving a second penalty away – and robbing his team of a point – apparently because of some personal vendetta was unfathomably stupid. Conversely, watching Jose Izquierdo go to ground so dramatically was equally pathetic.
What is happening to the modern-day footballer? Does self-esteem only extend as far as their wallets? I sincerely hope not; otherwise performances by the likes of De Gea, Ederson and Ryan will account for nought.
Defender – Chris Smalling (Manchester United)
Manchester United's win at West Brom wasn't an easy watch for me, in fact I found much of the game rather boring. However, what I did find interesting was the captain's armband slowly finding its way to Chris Smalling. In the absence of Antonio Valencia, who left this dull affair with a hamstring injury, I can't think of a more likeable or committed player to give the armband to. All credit to manager Jose Mourinho – he does like to give the armband to those who don't crave the limelight.
The Christmas period is going to be very demanding, and Smalling is the sort of player who will compete and lead by example. No Eric Bailly (for at least a couple of months) or Daley Blind means United can't afford many more injuries or suspensions to their top defenders. So having Smalling around for so long has proved to be of real value. He may not be the most gifted centre-back at the club, but he is certainly Mr Dependable.
Defender – James Collins (West Ham)
When I realised that Winston Reid was unavailable for West Ham's game against Stoke because of suspension and would be replaced by James Collins, my immediate thought was concern. Collins has played very little first-team football for the Hammers this season and was up against a Stoke side desperate for points.
I shouldn't have worried. Collins was immense. My view was supported by the West Ham fans who joined my train home from Manchester to London Euston via Stoke. I saw Collins perform well in the first half in the Final Score studio but needed someone I could trust to fill me in with the details thereafter. These West Ham fans knew their stuff and gave me so much more than a running commentary of the second half.
To begin with they were at pains to tell me what a great job David Moyes was doing, and that the atmosphere at London Stadium was getting better. One of the supporters was the son of former West Ham hero Brian Dear and was accompanied by the legend's grandson, who is a season-ticket holder. The lad was so buoyed by their 3-0 victory, he never stopped talking about it.
West Ham's move to London Stadium did not thrill me but if it helps future generations to afford season tickets then I'm on board. This is a marvellous old club with wonderful traditions and they belong in the Premier League.
Defender – Marcos Alonso (Chelsea)
Chelsea's win over Southampton was a good way to respond to their awful performance against West Ham the previous week. As Marcos Alonso said in his post-match interview: "That's what good teams do." Alonso had already drawn a superb save out of Fraser Forster – using his weaker right foot – when his strike with his favoured left did the damage.
This wasn't Forster's finest moment either. The Southampton keeper was slow to react to the free-kick and should have got across his line quicker to stop the shot. Even that would not have been necessary had Forster lined up his wall correctly in the first place. Had the wall been better positioned prior to the set-piece being taken, Alonso may not have been so precise and bent the ball around the badly positioned quartet and into the back of the net. It was a real pity because Southampton played well and could have got a point.
Meanwhile, paper talk of Antonio Conte leaving Stamford Bridge at the end of the season is not good. The Blues are still in three competitions (excluding the Premier League) and could quite easily win two of them.
Midfielder – Aaron Mooy (Huddersfield)
I don't normally preface my comments by saying the referee had a shocker, but on this occasion I must. This was a game littered with errors and controversy, and most of them came from referee Michael Oliver. However, there was a star performer throughout – and that was Aaron Mooy. His goal was somewhat fortunate, I must admit. I didn't see the lightning that struck down Adrian Mariappa prior to Mooy tapping the ball over the line, but it was rather a bizarre moment. Mariappa's sudden collapse, for no obvious reason, allowed Mooy to put Huddersfield into an unassailable position.
What followed could only be described as a series of extraordinary events. For Oliver to send off Troy Deeney when a booking would have sufficed appeared over-officious and unnecessary. The sending-off of Jonathan Hogg was equally baffling. The Huddersfield player had no idea where his opponent was, and his infringement seemed minor.
However, it was the reaction of Watford's Jose Holebas that had me doing cartwheels. For a player to go down holding his face and leave his team to concede another goal was tantamount to desertion. No blood, broken nose or jaw, just a slap in the face. I have never seen anything quite like it and hope I never see it again. I can only imagine what the late Graham Taylor would have said.
Midfielder – Kevin de Bruyne (Manchester City)
What a finish by the baby-faced assassin during Manchester City's victory over Tottenham. Kevin de Bruyne threatened to roll the ball on to his right foot, only for Eric Dier to shut the door in the Belgium international's face. So, without breaking stride, De Bruyne took the ball to his left side and smashed the ball past Hugo Lloris with such force the goalkeeper could barely get his fingers to it.
The goal came moments after Dele Alli's horrendous tackle on De Bruyne – the second by a Spurs player after Harry Kane's on Raheem Sterling – which merited a sending-off. There are no reasons whatsoever why a player should go over the top of the ball. It is perfectly acceptable for the player to go through the ball, but Alli did not and as a consequence didn't surround himself with glory with this tackle. I would prefer not to see it again.
The tackle didn't stop De Bruyne, in fact it galvanised him. Next it was Jan Vertonghen who refused to let the genius through on his right side and De Bruyne, again without any fuss, went on his left side in order to put Spurs to the sword once again, only to be brought down for a penalty by his fellow Belgian. This was one of the best performances I have seen from an individual for some time. He just seems to get better and better.
Midfielder – Philippe Coutinho (Liverpool)
Those of you who read my Team Of The Week on a regular basis will know what I think of Philippe Coutinho. He is a genius as far as I am concerned, and Liverpool should think themselves very lucky to still have him. Against Bournemouth he was his usual self – running the show with his normal brilliance. This game was over after 45 minutes at the Vitality Stadium.
This was also a very different Jurgen Klopp than we saw seven days ago, when he was moaning about teams not wanting to play. It's very simple Jurgen – play your best team and you will beat the weaker ones. Bournemouth went toe to toe with Liverpool and played into Klopp's hands by trying to beat them at their own game. There was never any chance of that. So the stage was left for Coutinho to dazzle and sparkle and he didn't disappoint.
His goal was just fabulous. His touch around the corner which started the move was simply gorgeous. He then went on to complete a solo run before planting the ball past a helpless Asmir Begovic. I have Coutinho neck and neck with De Bruyne, David Silva and Sergio Aguero for my player of the season.
Midfielder – Mesut Ozil (Arsenal)
Mesut Ozil's goal against Newcastle was special – and produced by a special player. The mere fact the German was travelling backwards when he took the ball out of the sky and volleyed it into the roof of Newcastle's net was quite amazing. It was the only thing that really separated both sides. For all of Arsenal's possession and intricate play, Newcastle fought bravely and – with better finishing – could have come away with a point.
But the reality is the Magpies are punching above their weight and are slowly running out of gas. I dread to think how this squad is going to cope over the Christmas period. The games are coming thick and fast now. Players are going to have to play with knocks and bruises and put their bodies on the line for their clubs and team-mates.
Meanwhile, Arsenal have a squad capable of finishing in the top four but the real issue is will Ozil stay at Arsenal? Arsene Wenger insists he will, but he would say that wouldn't he? If Ozil goes then where does that leave Alexis Sanchez? There is no doubt in my mind that one player gets his inspiration from the other and should Ozil leave then it would almost signal the departure of Sanchez too. The question both players must be asking themselves is, 'what is the point of staying at Arsenal?'. It looks like Pep Guardiola and Manchester City could be dominating the Premier League for the next few years.
Forward – Wilfried Zaha (Crystal Palace)
Crystal Palace manager Roy Hodgson is not far away from producing a really decent side at Selhurst Park. I have said before in this column that if Palace can get Wilfried Zaha, Christian Benteke and Andros Townsend all fit and on the field at the same time they can destroy any defence in the country. And we saw the first salvo of what this trio can do against Leicester. Palace's defence responded, too, with a clean sheet.
It must be really exciting to know you are in a team where if you can keep a clean sheet, you are almost certainly going to win. That is what Hodgson has at his disposal. Chris Hughton at Brighton, Paul Clement at Swansea and Rafa Benitez at Newcastle have nothing like that firepower. That is why Palace will stay up and the other clubs I have mentioned will spend the rest of the season fighting for their lives.
Forward – Christian Benteke (Crystal Palace)
Last week, Christian Benteke paid the price for writing cheques he couldn't cash. To take the ball from Luka Milivojevic, who had just converted a spot-kick, and insist he take it only to miss and cost his team two points must have been excruciating for the player, team and manager. But to return the following week against a rampant Leicester and produce a performance in which you score the opening goal and then lay on the second takes some courage.
I said after last week's debacle that Benteke was going to have to work his way back to form, and scoring goals was only part of the rehabilitation. The Belgium international is not back to his best but he's well on his way. It is imperative the Eagles get the former Liverpool and Aston Villa striker where he was when he first joined the club.
All credit to Hodgson as well. It took a very experienced manager to handle the situation after the game against Bournemouth. Everything Hodgson said publically was measured and he gave himself, and his player, room to recover the situation. It was a superb team performance by Palace against Leicester, but without Hodgson's astuteness and Benteke's courage, Palace might have struggled.
Forward – Raheem Sterling (Manchester City)
Against Tottenham, Raheem Sterling scored two goals and could have had five. His finishing can get considerably better, and if it does he can be whatever he wants to be.
To be fair to Spurs, they didn't park the bus – teams with such talented players should never do that. Spurs took City on and looked good for an hour.
But does Harry Kane have to do everything? I expect him to score goals, he's very good at that, but does he have to tackle and defend set-pieces as well? I thought that was the defenders' job. As for his lunge at Sterling – well, frankly, it was appalling and deserved a sending-off. I'm not suggesting it was deliberate but it did smack of a player doing a job not within his expertise. Spurs need Kane up the other end of the field scoring goals and not suffering the fear of suspensions doing other people's jobs.