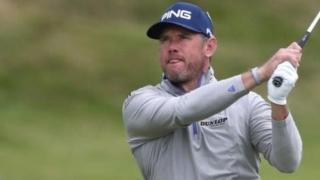 Former world number one golfer Lee Westwood has donated thousands of pounds worth of memorabilia to an Edinburgh charity shop after moving to the city.
The seven-time winner of the Ryder Cup gifted the personal items to Shelter Scotland's Morningside shop.
Among them are his Ryder Cup team caps including Valhalla 2008 and a signed cap from his Gleneagles win in 2014.
There are also five Ping 'Westy' caps. The items went on sale on Wednesday.
'Generous donation'
Mr Westwood said: "I am delighted that in Shelter Scotland's 50th anniversary year I can contribute to its vital work through donating some of my personal golf memorabilia and clothing.
"Not everyone is as fortunate as I have been in my career so I am just glad to be able to give something back and support Shelter Scotland in its fight to help people facing bad housing and homelessness."
Graeme Brown, director of Shelter Scotland, said: "I can't thank Lee Westwood enough for his very generous and much-appreciated donation to our Morningside shop.
"It is even more special in this our 50th year as there is so much that still needs doing in Scotland to fight bad housing and homelessness. Fantastic donations, like this one from Lee, make our work that bit easier."
Tony Foster, manager of Shelter Scotland's Morningside shop, said: "As a golf player and fan since my childhood it's an absolute treat to receive such an amazing donation from a player I've watched and admired for over 20 years.
"With such a volume of items we're struggling for somewhere to 'putt' them."