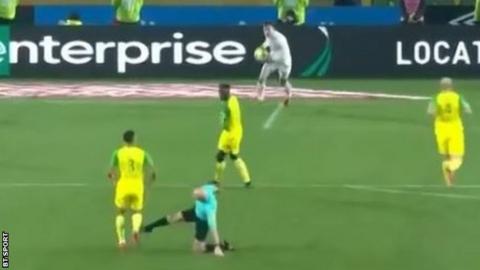 A referee who aimed a kick at a player then sent him off has been banned for six months, half of which is suspended.
Tony Chapron fell to the ground when his heels were clipped – apparently accidently – by Nantes' Diego Carlos during a league match last month.
Chapron, 45, kicked out at the player, then booked him for a second time.
The referee – who was suspended after the game – was given his punishment by a French league disciplinary committee on Thursday.
Carlos' booking was rescinded at Chapron's request.
Chapron has been refereeing in France's top flight since 2004 and taken charge of more than 400 matches in that time – including the French Cup final in 2014.
Prior to the incident he had announced that this would be his final season as a referee.