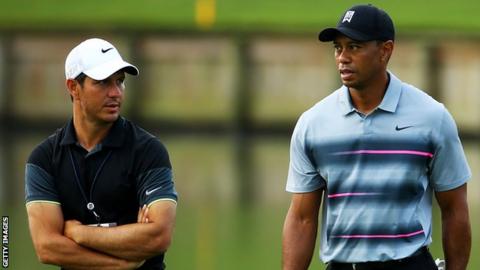 Former world number one Tiger Woods has split with swing coach Chris Como after three years together.
The American 14-time major winner, who had back surgery in April, said he will work alone in 2018.
"Since my fusion surgery I've been working hard to relearn my own body and golf swing," said the 41-year-old.
"For now, it's best for me to continue to do this on my own. I'm grateful to Chris Como for his past work, and I have nothing but respect for him."
Woods returned from his latest injury setback in December with four rounds at the Hero World Challenge in the Bahamas, his first tournament since withdrawing from February's Dubai Desert Classic with back spasms.
In a statement to the Golf Channel, Como said: "Tiger is ready to have an incredible next run in his career.
"I'm eager to watch what will be one of the most exciting sports comebacks of all time. I will continue to be a close friend and resource to him."