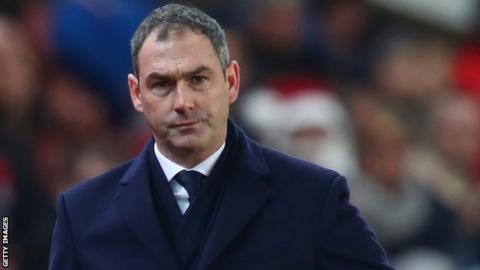 Swansea City have sacked manager Paul Clement with the club bottom of the Premier League, having won just three league games this season.
Clement, 45, took charge in January with Swansea in the relegation zone and guided them to a 15th-place finish.
Chairman Huw Jenkins said that changing the manager halfway through a season "was the last thing we wanted to do".
He said: "We felt we couldn't leave it any longer and needed to make a change to give the best chance of an uplift."
Swansea announced that assistant managers Nigel Gibbs and Karl Halabi have also left the club.
The Welsh club says it will give a further update on replacement coaching staff "within the next 24 hours".
Before joining Swansea, Clement had worked as Carlo Ancelotti's assistant manager at Chelsea, Paris St-Germain and Real Madrid.
He had one, short-lived managerial stint at Derby County which ended in 2016 and he was then reunited with Ancelotti at Bayern Munich.
Clement joined Swansea on a two-and-a-half-year deal in January, becoming the club's third boss of the 2016-17 season following the departures of Bob Bradley and Francesco Guidolin.
"We had three different manager last season and as a result we all wanted to give Paul as much time as possible to turn things around," Jenkins added.
"Paul has been at the club for 12 months and what he achieved in the second half of last season to keep us in the top flight was a tremendous feat.
"For that, and his effort and commitment this season, it goes without saying that the club thanks him for his work, together with Nigel and Karl."
The Swans were bottom of the table when Clement took charge but he oversaw a remarkable escape from relegation after a strong end to the campaign.
However, a summer of poor dealings in the transfer market sowed the seeds for a dreadful start to the current term.
Last season's leading scorer Fernando Llorente and player of the year Gylfi Sigurdsson were sold but not adequately replaced.
'Swansea's crisis runs deep'
Analysis by BBC Sport Wales football correspondent Rob Phillips
Paul Clement's departure is a damning indictment of those who run Swansea City.
If you include club legend Alan Curtis' spells at the helm, the Swans have gone through six bosses in just two years.
Curtis has taken caretaker-charge of his beloved Swans for the last two Decembers.
As head coach, Clement must take some of the blame, just as he deservedly received plenty of praise for steering the club away from relegation last season.
But the problems run far deeper than the coach. Poor recruitment for the last few years has resulted in a squad which is inadequate by Premier League standards.
Swansea made a stand over Gylfi Sigurdsson's fee to Everton in August, but that led to a month of transfer inactivity during the protracted negotiations. Was there no spare cash at hand?
Clement was promised money in January, but did not survive to spend it.
The so-called 'Swansea Way' – which disappeared when Michael Laudrup was shown the door – used to be about an attractive and successful brand of passing and movement.
Now the 'Swansea Way' is to announce a departure in December to make way for a New Year miracle worker.
The revival could happen again, just as it has done following managerial changes elsewhere.
But the crisis runs so deep – characterised by a disconnect between fans and those in charge, chairman Huw Jenkins and American owners Steven Kaplan and Jason Levien – it is difficult to see any other outcome but relegation.
The Swans have dodged this bullet for the last two seasons – this time their luck may have run out.