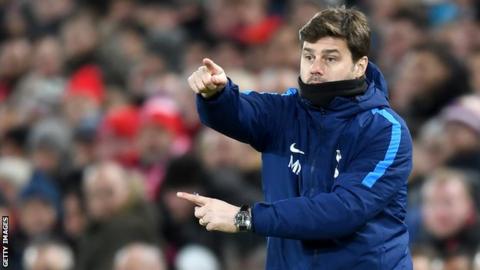 Winning trophies is not the only important thing for Tottenham right now, says manager Mauricio Pochettino.
Spurs' last major crown was the 2008 League Cup but Pochettino, now in his fourth season in charge, said "building the club's project" was as pressing.
Speaking before Saturday's home league match with north London rivals Arsenal, Pochettino said: "People say 'Tottenham need to win a title'. But for me, the process is more than winning a title.
"I manage a club and a company."
He added: "When you compete against massive sides like Manchester City, Manchester United, Arsenal, Chelsea, Liverpool, and the broadcasters give them massive money, that massive money, for them, goes to investing in new players.
"For us it means to build the project so that one day we have the capacity to do the same or change the philosophy.
"You need results to be sure that all the income will be at a level to start a process to build a new stadium, to attract players, to play Champions League."
Tottenham are four points ahead of Arsenal in fifth place in the Premier League table. They trail runaway leaders City by 20 points.
On Tuesday they play Juventus in the first leg of their Champions League last-16 tie, before an FA Cup fifth-round trip to Rochdale on 18 February.
Defender Jan Vertonghen, speaking to BBC Sport's Football Focus programme, said he believed the club had "enough quality to win something".
He added: "It's not like we discuss it every day but we know we have to reward ourselves for the hard work and the great football we play.
"I think we are ready for it. We've got the team, we've got the manager, the technical staff, the medical staff and soon a new stadium."