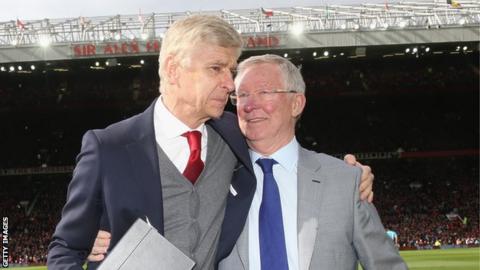 Arsene Wenger was among a host of Premier League managers to send support to Sir Alex Ferguson over the weekend after the former Manchester United boss had emergency surgery for a brain haemorrhage.
Ferguson, 76, remains in intensive care at Salford Royal Hospital.
The Scot retired as United manager in May 2013 after winning 38 trophies during 26 years in charge.
"He's a strong man and an optimistic man," said Wenger.
"We wish him all the best and that he recovers quickly."
Ferguson was at Old Trafford last Sunday when he presented departing Arsenal boss Wenger with a commemorative trophy.
"I was on the pitch with him last week. He was very happy but anything can happen," Wenger added.
"I went to see him in the box after the game on Sunday. He looked in perfect shape. He told me he's doing a lot of exercise, he looked very happy."
The most successful manager in the history of the British game, Ferguson's trophy haul at Old Trafford included 13 Premier League titles, two Champions League crowns, five FA Cups and four League Cups.
He famously won the Treble of Premier League, FA Cup and Champions League in 1999, the year in which he was knighted.
Ferguson has been married to wife Cathy since 1966. His son Darren manages Doncaster Rovers but did not not take charge of their League One match against Wigan on Saturday.
Manchester City manager Pep Guardiola also sent his close friend his well wishes, revealing Ferguson had recently taken him out for dinner to congratulate him on winning the Premier League title with City.
"A big hug and our thoughts are with his wife Cathy and the Manchester United family," the Spaniard told Sky Sports before City's goalless draw with Huddersfield on Sunday.
"I was glad to have dinner with him two weeks ago, and hopefully he can recover as quickly as possible."
In a tweet on Sunday night, Manchester United thanked the "wider football world" for their messages of support.
More messages of support
Chelsea manager Antonio Conte: "I'm very sad. I have had the possibility to know him and his wife and to understand that this is a special person. He's not a normal person. A manager who won many titles in his career.
"I think I appreciated a lot the man. And yesterday this news changed my day in a bad way, because we hope to see him quickly and to have our best wishes to recover very soon. Now it's very difficult. We want to stay very close also."
Liverpool boss Jurgen Klopp: "When I heard it yesterday on the way to London, I really couldn't believe it. It can happen to all of us.
"He will be in my prayers 100%. I wish him and his family all the best. He will be in a good shape again. I'm 100% sure. I'm looking forward to seeing him again."
Manchester City assistant manager Brian Kidd: "He's such an iconic person as everybody knows. There was a really sombre mood yesterday evening and this morning. You think Sir Alex is really indestructible, we've all been brought up with him.
"What he did for Manchester United was unreal and the pressure he was under every day to produce. It's phenomenal.
"You know him, you lads have had your run-ins with him but you know where he's coming from; he wears his heart on his sleeve.
"The opportunity he gave me, I'm always indebted to him, god bless him. All the love in the world to him."
Premier League executive chairman Richard Scudamore: "It's obviously a big shock but the most important thing is to wish him well, and his family well, to respect their privacy, and hope that very, very soon he's back to his best.
"He's probably the most iconic figure of football from the last 30 years, and then when you add that to the fact that he's such a important role model to so many people around the world, he's captured the world. He's a national institution really, so therefore I'm not surprised really at the massive outpouring of support."