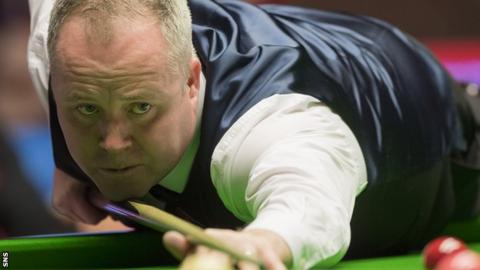 John Higgins whitewashed Ronnie O'Sullivan in a ranking event for the first time in 23 years to reach the Scottish Open semi-finals.
The Scot rattled in three consecutive century breaks – 109, 117 and 105 – to open up a 4-0 interval lead.
'The Rocket', who has won three ranking titles recently, rallied briefly but a 72 break from Higgins sealed a 5-0 win.
Higgins will next face Neil Robertson, who beat China's Xiao Guodong 5-4, while Judd Trump beat Stephen Maguire.
O'Sullivan, who has won the English Open, Shanghai Masters and UK Championship in the last two months, paid tribute to his opponent's superb performance.
"John's a class act; an amazing player, unbelievable," he said. "He's got touch, skill, power – he's got everything. If you were going to build a snooker player, you would build John.
"He played fantastically well. No excuses, I was here to try to win the tournament, it just didn't work out. But I am kind of relieved I don't have to come back and play another match.
"I am looking forward to getting home and not having to pack my suitcase. I just need a break and hopefully I will come back rejuvenated for the Masters in January."
It was the first time since the 1994 Grand Prix that Higgins had won every frame against O'Sullivan in a ranking event.
"That was on my way to winning my first tournament," Higgins recalled. "I can remember it; I played him in the quarter-finals. This is a great result for me."
The Scot also beat the five-time world champion, 5-2, at the same stage of last year's Scottish Open, before going on to lose the final to Marco Fu.
"This is a far better result, because of the way Ronnie's been playing this year and his confidence," Higgins told BBC Scotland. "I'm also maybe not as confident as I was last year."
'I'm seeing my game reach another level'
Earlier, Trump ended Maguire's run at his home tournament with a 5-2 victory.
Trump won the first two frames before the Glaswegian replied, but the world number three made it 4-1 and a 43 clearance in the seventh sealed it.
He will play Chinese player Cao Yupeng, who beat Ricky Walden 5-3, in the other semi-final at 13:00 GMT on Saturday, with Higgins-Robertson to follow at 19:00.
Robertson rattled in consecutive centuries from 2-1 down – 114 and 128 – and seized his chance to seal victory from Guodong's break-off in the decider.
He believes his recent commitment to extensive practice is paying off.
"The last couple of months, with the amount of practice I am doing, I am seeing my game reach another level, particularly in the scoring department," he said.
"I feel as if I am playing better than I ever have done. If I keeper producing these kind of performances, opponents know that if they miss, I am going to clear the table."