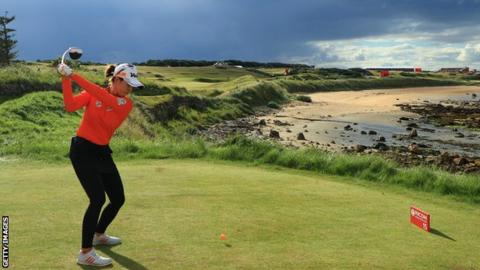 Scottish Golf chair Eleanor Cannon says the organisation must make changes to "attract non-golfers".
The organisation was due to hold a special general meeting this weekend.
However, following chief executive Blane Dodds' resignation and move to Tennis Scotland, Saturday's meeting will be a national conference.
"I think that it is an incredibly important moment for golf in Scotland," Cannon told BBC Scotland before the summit in Edinburgh.
"The game is in decline and we want to grow stronger clubs and we want to attract people to play golf once more.
"We only have 14% of our members are female. We're not far off 50% of the working population being female so we really need to bring change into the game such that we attract non-golfers."
Price of golf must be reduced – Lawrie
Prior to his departure and against a backdrop of a potential budget cut of around £400,000, Dodds had launched a proposal to raise an additional £4m in revenue to help grow amateur golf through clubs.
Suggested measures included raising the annual fees accrued from club members from £11.25 to £24 and the introduction of a new international tax for overseas visitors playing in Scotland.
"We've listened, it was always a period of consultation," explained interim chief executive Cannon. "The one size fits all system is absolutely off the table.
"We need to get this right and we need to help clubs and members understand what the very real issues are because what we've realised is the urgency of the situation.
"I'm delighted to say that Mel Young, the chair of Sportscotland, is coming on Saturday to talk about the funding challenge.
"The funding from government has dropped quite significantly and sure, there are options as to how we can address that funding drop and part of that is reducing the services that Scottish Golf offers.
"But, we're not about to come up with a random figure that says, 'this is what we're going to put affiliation fee to'.
"The purpose of Saturday is to say to our audience and to work with them to say, 'what would you like from us to address these challenges? Because we're all in this together. What would you like from us and we will cost that'.
"And if that means we cut back services then we will do that but if we cut back services we will only accelerate the decline."