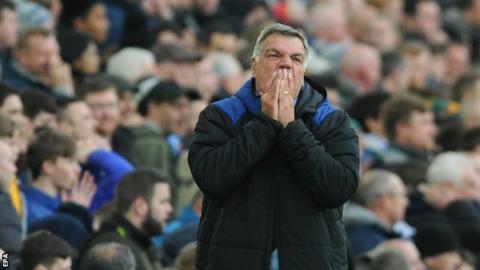 Everton boss Sam Allardyce says a survey sent to fans asking them to rate his performance on a scale of zero to 10 was "a marketing slip-up".
The survey was part of an exercise with a fan panel designed to discover how connected they feel to the club.
Allardyce replaced Ronald Koeman as manager in November.
"The survey passed out by the director of marketing was a slip-up," he said. "His knowledge is about marketing and not football. He got things wrong."
Fans were asked to rate the statement: "I have a high level of trust in the current manager and coaching staff… e.g. in making the right decisions to get the best out of the team."
Allardyce has guided Everton to ninth in the Premier League after taking 27 points from 20 games since replacing the sacked Ronald Koeman.
However, there has been growing discontent among some supporters over what they perceive as a negative playing style.
The former England boss suffered abuse from supporters during and after Saturday's 1-1 draw at Swansea City, having been subjected to similar treatment after the defeat at Burnley on 3 March.
"It hasn't made any difference to me," Allardyce added.
"I'm planning for the future, until someone tells me otherwise. If that was to happen I'd be more than extremely disappointed."
Everton send out a fan survey several times a year. The club sent the same list of questions to some fans last May, including one about their view on Koeman.