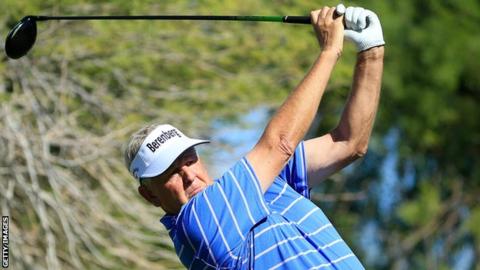 Europe could field its strongest-ever Ryder Cup team this year, says former captain Colin Montgomerie.
The Scot, who captained the continent to victory in 2010, made the suggestion after three European victories on various tours last weekend.
Tommy Fleetwood triumphed in Abu Dhabi, Jon Rahm won the PGA Tour's Career Builder Challenge and Sergio Garcia was victorious in Singapore.
Under the leadership of Thomas Bjorn, Europe will be bidding to regain the trophy from the United States in September at Le Golf National, in France, after their 2016 defeat at Hazeltine.
"Darren Clarke didn't have that luck really in his 12 for Hazeltine, the way his team worked out," Montgomerie told BBC Sport.
"Suddenly you've got three guys that have appeared from nowhere on the world stage: Jon Rahm, Tyrrell Hatton and Tommy Fleetwood – and Paul Casey, thank goodness, has joined the European Tour again.
"That's four guys, a third of Thomas Bjorn's team, who have come from nowhere on to a world stage and that's great for European golf. You add that into a number of guys that are just right behind that level and European golf is in a very, very strong place.
"Sergio Garcia's win at the Masters, his win last week in Singapore, Jon Rahm in America, European golf is on a bit of a high right now and we must continue that through the year."
Montgomerie played in eight Ryder Cups, never losing a singles match. He was part of the teams that won the 2004 and 2006 matches with record breaking nine point winning margins.
"I always felt that the Ryder Cup team of 2006 was the strongest that we could ever put out and we have to be as strong, if not stronger, to beat the might of America come September," Montgomerie stated.
"If you add Garcia, Rory McIlroy and Henrik Stenson into that, yes this could be the strongest-ever team and it's got to be."
Montgomerie returns to the European Tour for the Dubai Desert Classic, which begins in the United Arab Emirates on Thursday. But the 54-year-old will also be watching closely Tiger Woods' comeback to the PGA Tour in California.
It will be the former world number one's first outing since playing in his own exhibition event in the Bahamas at the beginning of December.
"It'll be difficult, a lot of pressure on him," Montgomerie said. "He came back, as we know, to an event with no cut and only 18 playing.
"That was wise of him and well-judged, so things couldn't really go wrong on a resort style course in the Bahamas.
"This is a proper golf course, Torrey Pines. Yes he's done well there before but he's got to play well to make the cut.
"Let's hope he makes the cut and does well and we see Tiger back at the Masters and performing because he is the marketing needle that even the Jordan Spieths of this world, the Justin Thomases, the Dustin Johnsons can't hold a candle to."
In playing terms, Montgomerie has similar ambitions to make the weekend here in Dubai. "I would be disappointed to miss the cut," he said.
He arrived in the Middle East after finishing runner up on the Champions Tour in Hawaii last Saturday. The beginning of that trip was marked by the hoax warning of a missile attack on the pacific islands.
"That was a surreal experience wasn't it?" he smiled.
"I don't know what the feeling was, I mean, you fly all that way from London to the middle of nowhere and somebody's planning on bombing you – you say: This isn't right!
"I was just waiting, hoping like hell that it was a hoax. I couldn't believe it was going to happen.
"The nuclear deterrent has worked for 70 years – why shouldn't it continue? Then you hear it was some change of shift and someone pressed the wrong button, for goodness sake!
"Madness! Thank goodness we are all in one piece."