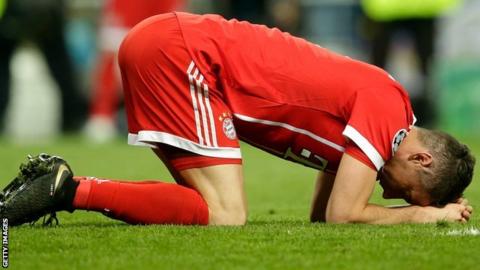 Lucky or just savvy?
Real Madrid have reached a third consecutive Champions League final – but only just, after they clung on against Bayern Munich.
Zinedine Zidane's side drew 2-2 at the Bernabeu, winning 4-3 on aggregate, but would have gone out on away goals had they conceded one more to the German club.
They "relied on luck" according to former Chelsea and England midfielder Frank Lampard, while BBC Radio 5 live summariser Chris Waddle questioned Zidane's tactics.
Zidane argued that the Champions League was "in the DNA of the club", adding: "We never stop fighting up to the very last minute, just as the Bayern players did tonight."
So are Real into the final through good fortune, or are they just too good in Europe?
How they rode their luck
There were certainly fortuitous moments for Real. Bayern goalkeeper Sven Ulreich's mistake gifted Karim Benzema a goal just moments into the second half before Corentin Tolisso and Thomas Muller's efforts were well saved by Keylor Navas.
Mats Hummels also headed wide and Robert Lewandowski missed a number of key chances as Bayern recorded 22 shots on goal, including 10 on target throughout the game.
Real Madrid had to make seven blocks, had only had 40% of the overall possession and made more than 150 fewer passes than their opponents – but it was still enough to reach their record-breaking 16th European Cup final.
In contrast, Real produced two goals from three shots on target, compared with Bayern's 10 efforts on goal.
Former England international Waddle said afterwards if you "give Real chances, they will take them", but criticised some of their key players and questioned Zidane's tactics for the semi-final.
"Cristiano Ronaldo didn't come to life, Benzema has got more to offer but Gareth Bale might play in the final," said Waddle.
"Real Madrid have got quality players but I just think Zidane got the balance wrong tonight. Luka Modric was at right-back at times. I didn't get that.
"The one thing is, they haven't played well but they have still managed to score four goals over the two legs."
But former Chelsea midfielder Lampard said Real Madrid were "at a lower level" this year.
"It is not the Real Madrid of the last few years," Lampard told BT Sport. "I wonder whether they can do it again."
A tough route to the final?
Real Madrid did not shine in the group stage and came through as runners-up, taking just one point from Mauricio Pochettino's Tottenham, who topped the group.
But the Spanish side overcame Cyprian opponents Apoel Nicosia and German side Borussia Dortmund.
Things got tougher in the knockout stages, coming up against three reigning league champions en route to the final.
Real Madrid won both legs against French champions Paris St-Germain – picking up a 5-2 aggregate win – and set up a tie with Italian league leaders Juventus.
Ronaldo's 97th-minute penalty was needed to prevent Juve recording a remarkable comeback at the Bernabeu before Real Madrid's patchy display saw them survive against Bayern Munich in the semi-final.
Zidane said it was "nicer" to reach the final through "suffering" after riding their luck on a number of occasions.
"It's not great for your heart though," he added.
Is it something about the Champions League?
Real Madrid won La Liga last season but have struggled this term – they are 15 points behind Barcelona, who were crowned champions on Sunday, and they were also knocked out of the Spanish Cup to Leganes in January.
It could have been worse – they were 19 points off Barca and actually closer to the relegation zone than the league leaders near the start of 2018. Their form has picked up since then, and they have lost only once in La Liga since mid-January.
Had Real been knocked out of the Champions League before Christmas, Zidane might already have been looking for a new job by that stage.
But they seem to excel in the Champions League. This season's will be their fourth final out of five (they won the other three), but in that same period they have won just one Spanish title, last season's, and one Copa del Rey.
Despite their Champions League success, their statistics in the tournament have been remarkably similar to their league games – although their European games have been against top sides for the most part.
Zidane has been in charge for two and a half years and is yet to be knocked out of the Champions League.
His only four defeats in the competition, two of which have been this season, have been first or second legs (when they have progressed anyway) or in the group stage.
And two of their current team are in the top five Champions League scorers of all time…
'Never seen a more undeserving team go through' – How BBC Sport readers reacted on social media
PJ: "Keylor Navas made some really big and important saves in this game to secure the win for Madrid tonight it must be said!"
Stu: "Real Madrid have got to be the luckiest team ever to reach a Champions League final."
Hailu: "The resilience of this Real Madrid team is quite remarkable. Any other team would lose to Bayern tonight. Another final and probably last one for Zidane and Cristiano Ronaldo in Real's shirt."
Kris: "Bayern made two defensive mistakes and Real scored due to each of them over the tie, whereas Real didn't make any, that's why they're in the final."
Chuks: "Real have limped into the final and you can never write them off."
Helles Mammut: "Such riches of attacking talent, but it was the goalkeepers who made the ultimate difference."
Anon: "I've never seen a more undeserving team go through the Champions League final. Real Madrid were terrible in both legs."