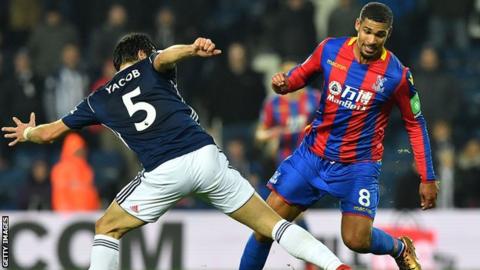 Crystal Palace midfielder Ruben Loftus-Cheek could be ruled out for several months after manager Roy Hodgson said his ankle injury is worse than first thought and may require surgery.
The on-loan Chelsea player, 21, has not featured since 28 December due to what was thought to be a minor injury.
But Hodgson said Loftus Cheek could now be a doubt for this summer's World Cup.
"The injury is more severe than we originally thought, or perhaps hoped, it would be," said Hodgson
Loftus-Cheek enjoyed an impressive start to his season-long stay with Palace, resulting in England manager Gareth Southgate handing him an international debut against Germany at Wembley in November, followed by a second cap in the subsequent meeting with Brazil.
His hopes of making the plane to Russia in the summer are currently in the balance, however, with Hodgson unsure when he will be available again.
Loftus-Cheek capable of anything – Gareth Southgate
Loftus-Cheek 'has given Southgate selection problem'
"I would be very disappointed, surgery or no surgery, if he's not playing before the end of the season," Hodgson said,
"We certainly want him to be and I would presume Chelsea would want him to be because they might like to have a player who's going to be selected for England in their squad but there's literally nothing we can do about it.
"The only way he can make himself available for Crystal Palace or England is to be fit and at the moment that isn't the case."
Loftus-Cheek is currently receiving treatment from medical staff at Palace and Chelsea.
Asked whether he could be a doubt for the World Cup in Russia, which kicks off on 14 June, Hodgson replied: "I don't know.
"I don't want to go into that at the moment because we don't know how long it would take after surgery to get him fit again."