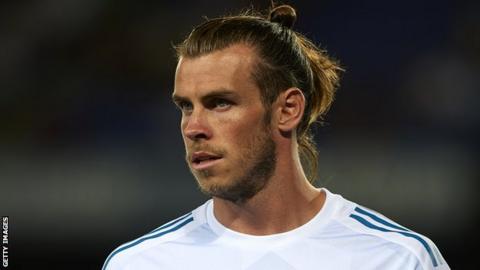 Real Madrid face a must-win Clasico on Saturday, and Gareth Bale is hoping to use the game as an opportunity to cement his long-term future at the club.
La Liga's reigning champions are fourth in the table heading into the game, 11 points behind table-topping Barcelona – albeit with a game in hand – having dropped points in six of their 15 league games.
Bale has been absent for the majority of the campaign with a series of injuries, and those continual physical problems have led to speculation the club are willing to sell him.
Now he is back, and eager to earn another chance to show he deserves a place in Zinedine Zidane's starting line-up. But it's by no means certain he'll be given that chance.
Patience running out?
This has been a frustrating year for Bale.
Though Real made history by claiming five trophies for the first time (La Liga, the Champions League, the Uefa and Spanish Super Cups and the Fifa Club World Cup), injury problems forced Bale into a peripheral role, and Spain international Isco has flourished as his replacement.
Thigh and calf injuries have restricted Bale to just five league appearances so far this season, while his total number of injuries since moving to Madrid has risen to 24.
During the autumn there was a growing sense that enough is enough, with all-powerful club president Florentino Perez – previously Bale's biggest backer – reported to have run out of patience with the repeated unavailability of a player who was described in the media as being "made of glass".
Amid rumours the Bernabeu hierarchy were preparing to sell Bale, there was an ominous note from Perez when he softened his support for the winger by appearing to compare him to former Real star Kaka, who Perez said was "never the same" after a serious knee injury.
Sensing the Wales international was being pushed out, most sections of the Spanish media adopted an aggressive tone. In October, for example, an article by Hector Martinez in sports daily AS stated Bale's absence was "working in Zidane's favour" and noted Real had won 10% more games without the former Tottenham man than with him.
There was particular irritation with the idea Bale is more committed to his country than his club, with another article in AS claiming "Madrid pays for him, Wales enjoy him".
One of Bale's biggest critics, Santi Segurola, wrote in broadsheet newspaper La Vanguardia: "His value is dissipating on the pitch and on the transfer market."
For the first time, it seemed the odds of Bale staying in Spain were stacking up against him.
Proving his worth
But just when it started to appear Bale had no future in Madrid, his latest returns have served a timely reminder of his world-class talents.
Last month, after eight weeks out, Bale came off the bench with his team facing humiliation as they trailed at home against third-tier Fuenlabrada in the Copa del Rey. He promptly delivered a brilliant cross to create the equaliser for Borja Mayoral, then set up the young Spaniard for another goal.
After another – briefer – spell on the sidelines, his latest comeback came in similar circumstances, when Real were struggling in last week's Club World Cup semi-final against Al Jazira. Bale came off the bench to score the winner.
The former Tottenham man also caught the eye as a substitute in the final against Gremio – he was only denied a spectacular goal by an excellent save. Those three brief cameos – his only appearances since September – have done his cause the power of good.
Real Madrid TV presenter Phil Kitromilides told BBC Sport: "I think it is very unfair to criticise any player for getting injured, and no-one will be more frustrated with the games he has missed than Bale.
"There have been flashes of excellence from Bale this season. His goal at Borussia Dortmund in the Champions League will be one of the best of the tournament, while he scored in both of the first two away games of the season.
"Bale has always been decisive and he showed that he's still got that capacity in the semi-final of the Club World Cup, and when he came off the bench against Fuenlabrada and changed the game."
With a crucial Clasico on the horizon, Bale could not have timed his return to fitness any better.
Will he start El Clasico?
Bale's chances of starting on Saturday are diminished by Zidane's unshakeable faith in Karim Benzema, who has retained his place despite scoring in just four of his 19 appearances this season.
Zidane values Benzema for his ability to smoothly link midfield with attack, and said last week: "I will continue to defend him until the death."
Unless the French coach has a radical rethink, that leaves Bale and a trio of Spain internationals – Isco, Marco Asensio and Lucas Vazquez – competing for just one remaining place in the starting line-up.
Counting against Bale is a recent change of formation, with Zidane largely abandoning the 4-3-3 formation in which the Welshman lined up alongside Benzema and Cristiano Ronaldo in attack.
He now prefers a 4-4-2 containing a narrow midfield diamond, with Brazilian enforcer Casemiro flanked by playmakers Luka Modric and Toni Kroos, and Isco's creative skills at the tip.
There's no obvious place for Bale in that set-up, with his athletic abilities more suited to the bigger spaces available in the wide positions which are occupied by full-backs Dani Carvajal and Marcelo.
However, Kitromilides believes the change in formation was forced upon Zidane as a necessity, and a return to the so-called 'BBC' three-man frontline remains an option.
He said: "Zidane has not used a 4-3-3 recently because players have been injured. If Bale, Benzema and Cristiano are all fit, I'm sure we will see them play together again at some stage."
This weekend, however, that approach is likely to be a Plan B rather than the starting strategy, and the fact it is even being debated shows how Bale – previously an unquestioned starter – has seen his status fall this year.
Zidane under pressure?
This weekend's Clasico is a game Real cannot afford to lose, and the consequences of defeat could be significant for Zidane just a week after his side became world champions – winning their eighth trophy in less than two years under him.
Zidane's successes, and his background as a playing icon, have given him a fair amount of protection from Perez's usual trigger-happy approach to hiring and firing managers.
Not many people could have survived the poor start to the season Real have endured, but surrendering a 14-point advantage to Barcelona before the midway point of the campaign could prove too much even for Zidane.
And it won't be easy for Real to break down a Barcelona team that has gained new defensive solidity under the conservative approach of summer appointment Ernesto Valverde.
The league leaders have conceded just seven goals in 16 league games, with Germany goalkeeper Marc-Andre ter Stegen keeping 10 clean sheets.
And, although El Clasico is usually a goal-laden affair – with the last 10 meetings yielding 37 goals – that's unlikely to be the case this time. It's even tempting to suggest we may have the first goalless Clasico since 2002.
But if Bale can be the man to break the deadlock, even if it has to be from the bench, it could breathe fresh life into his Real career.