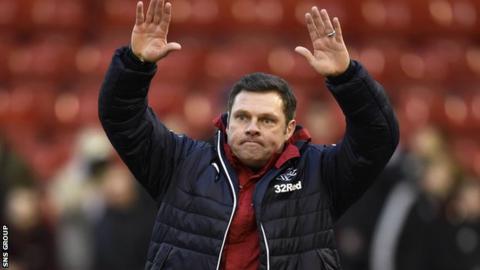 Interim boss Graeme Murty has been appointed Rangers manager until the end of the season.
Murty was put in charge of the first team following the sacking of Pedro Caixinha in late October, having also been interim manager earlier in 2017.
Rangers' King ordered to make £11m share offer
John signs permanent deal with Rangers
Over the past nine games, Murty has overseen six wins and three defeats. Rangers are third in the Premiership.
"It's my job and the players' job to make ourselves irreplaceable," Murty said.
"I've always said you must aspire to be the best you possibly can be. If I do the best job I can hopefully I make it relatively simple for the board moving forward.
"This is a once-in-a-lifetime opportunity to work as manager at Rangers. You don't just want to do it for a short period of time. If I'm good at it and stand out hopefully I can get to do it for longer.
"That's my aim – to improve and move my career forward."
The decision to continue with Murty, who had been development squad head coach, follows Aberdeen boss Derek McInnes' decision to stay at Pittodrie following interest from Rangers.
"Derek made a decision we fully respect," said Murty.
"I now have an opportunity because of that to manage a wonderful club."
Rangers say Murty "will have the final say on which additions will be made during the January transfer window" and he "will be bringing in additional support".
And director of football Mark Allen commented: "To have a first-team manager in place and permanent is exactly where we need to be.
"The scouting team will identify players. They'll identify characteristics. Ultimately it's the manager who has to say, 'I'm going to play that player'.
"We've identified clearly some targets that we would like to go after. They've been shared and rubber-stamped by the new manager, which is the right way to do things."
The former Scotland and Reading defender was first placed in charge at Ibrox following Mark Warburton's departure in February.
He won three games, lost two and drew the other at Celtic Park before handing the reins on to Caixinha, who was unable to win three successive fixtures during his seven months as manager.
Murty has won four on the trot in recent weeks but Rangers lost their most recent match, 3-1 at home to St Johnstone.
Managing director Stewart Robertson said: "Graeme's in pole position going forward. He's the man in possession of the job. If he continues to do well we may have a very easy decision to take at the end of the season.
"Graeme's done a wonderful job in the role that he's been in."