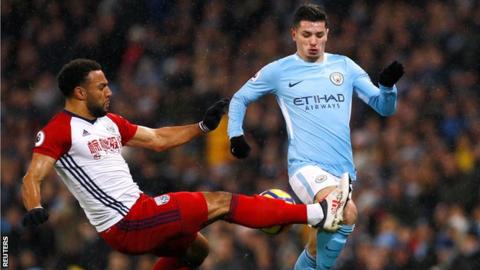 Winger Raheem Sterling claims his Manchester City team-mates are being "butchered" by bad tackles.
His comments follow those of manager Pep Guardiola, who believes the players need more protection from referees.
Late tackles on Brahim Diaz and Kevin de Bruyne during the 3-0 win over West Brom further provoked Guardiola's ire.
Sterling said: "Some tackles have been awful. It's not what I expect in a top-flight match, especially when teams are losing and go out to kick players."
The 23-year-old added: "There are going to be challenges that are badly timed and probably not all of them are intentional.
"But at the same time if it's a dangerous tackle, it's a dangerous tackle and I think the referees and officials need to cut these tackles out because some of the players are getting butchered, butchered out there and it's sad to see."
The England international also fears that one of these challenges could result in a City player missing out on the chance to play at Russia 2018.
He said: "I do think we need to cut down on that because we've got a World Cup at the end of the year.
"The majority of the players in the top flight, and in our team, will be playing in it and it would be sad to see someone miss the tournament due to a silly tackle and someone get away with it."
His German team-mate Leroy Sane is out for seven weeks with ankle ligament damage after a tackle by Cardiff's Joe Bennett last weekend, while both Diaz and De Bruyne were fortunate to avoid injuries following challenges by Baggies pair Matt Phillips and James McClean.
Belgium midfielder De Bruyne said after that match: "A lot of teams are making a lot of fouls against us. We make a foul, we get a yellow card, I don't know how it's possible sometimes."