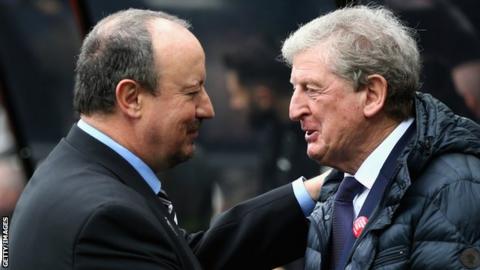 Newcastle boss Rafael Benitez thinks he will still be managing at the age of 70 because he "cannot see a normal life".
The 57-year-old has managed Real Madrid, Liverpool, Valencia and Chelsea in a 32-year coaching career.
His side face Crystal Palace on Sunday, managed by 70-year-old Roy Hodgson.
Benitez, who says his family have raised the issue of retirement, said: "When you are at home and you are moving plates and glasses around the kitchen in 4-4-2, they say, 'Go'."
Preview: Crystal Palace v Newcastle United (Sunday, 14:15 GMT)
Asked if he would still be managing at 70, the Spaniard said: "At the moment, I have to say yes, obviously, because I like the passion of football, I like my job."
Benitez, who won the Champions League with Liverpool in 2005, added: "You have managers doing the job for years because of the energy that we have, the passion and the desire for winning that we have. With the desire for winning I have, I cannot see a normal life for myself.
"The main thing is to have health. If you are healthy, you can continue and I am fine, touch wood. I'm fine. Normally I don't drink and I don't smoke, so that's it, I'm fine."
Newcastle, who have won only twice in their last 16 Premier League games, are 16th in the table and only out of the bottom three on goal difference.