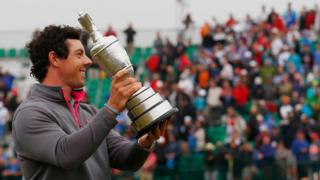 Public opinion is against a new golf resort in Merseyside, an MP has said.
Funding options for a development in the region, which has hosted The Open championship on many occasions, are set to be agreed by councillors this month.
The plan, due to be submitted in 2018 for final approval, includes two courses in Hoylake and would create jobs, Wirral Council said.
Following a public meeting on Saturday, Wirral West MP Margaret Greenwood said the area was "liable to flooding".
The meeting was held after 3,700 people signed a petition against the proposed Hoylake Golf Resort, which includes plans for a hotel and conference centre.
Wirral Council leader Phil Davies said it would "create hundreds of jobs for local people and support businesses".
Merseyside has hosted The Open four times since 2006, including at Royal Birkdale in Southport this year.
Mr Davies said the new resort would draw extra visitors and generate revenues for public services.
He added it would "cement Wirral's leadership position with the international golf community" after the area hosted The Open in 2006 and 2014.
Ms Greenwood said there was a "lack of detailed information", particularly concerning plans for 150 "executive homes".
"Furthermore, the resort is proposed for an area that is liable to flood in wet weather."
She said she had received "hundreds" of messages against the golf resort and "around 20" in support.
"This suggests public opinion is against the resort and I would urge the council to recognise this."
Phil Simpson, from the Stop Hoylake Golf Resort Campaign, said there was a "lack of any demand for yet another golf course in an area already saturated with courses".
He said it could lead to the "destruction" of a local wildlife site and the loss of greenbelt land.
Alternative plans for an "eco-golf" resort, and a wildfowl and wetland centre, were also presented at the meeting, which was attended by Wirral Council representatives.
The authority is "set to agree" funding options at a meeting on 18 December, before a public consultation and planning application in 2018, a council spokesman said.