Premier League clubs spent a January transfer deadline-day record £150m on Wednesday to take their overall outlay for the month to £430m, according to analysis by Deloitte's Sports Business Group.
The most expensive move on the final day of the winter transfer window came when Pierre-Emerick Aubameyang joined Arsenal from Borussia Dortmund for a club record £56m.
Elsewhere, Tottenham signed Lucas Moura for £23m, and Olivier Giroud and Andre Ayew made £18m moves – to Chelsea and Swansea respectively – as deadline-day spending passed the record set in 2011.
Announcements continued to trickle in long after the 23:00 GMT deadline, with Eliaquim Mangala's loan move from Manchester City to Everton made public at 00:53 on Thursday.
The top-flight clubs had already made this a record January transfer window, beating another record set in 2011 by £205m.
Then, Chelsea completed a £50m move for Liverpool's Fernando Torres, and the Reds recruited £22.7m Ajax striker Luis Suarez and paid Newcastle £35m for Andy Carroll to take the deadline-day spend to £135m.
Seven years on, three other strikers made the headlines, with Aubameyang's move reliant on Dortmund taking Chelsea forward Michy Batshuayi on loan, and the Blues replacing him with Arsenal's Giroud.
Check out all the transfer deadline-day deals in one place
Selected deadline-day deals
Pierre-Emerick Aubameyang [Borussia Dortmund – Arsenal] £56m
Lucas Moura [Paris St-Germain – Tottenham] £23m
Olivier Giroud [Arsenal – Chelsea] £18m
Andre Ayew [West Ham – Swansea] £18m
Badou Ndiaye [Galatasaray – Stoke City] £14m
Jordan Hugill [Preston – West Ham] £10m
The most expensive Premier League signing of the January transfer window actually went through on the opening day of the month, when Liverpool signed defender Virgil van Dijk from Southampton for £75m.
Leicester's protracted move for midfielder Adrien Silva also went through on the same day, and before the week was out Everton had paid a club record £27m to sign Besiktas forward Cenk Tosun. Later in the window, the Toffees made a second £20m-plus signing in winger Theo Walcott.
Alexis Sanchez swapped Arsenal for Manchester United as one of the window's most-talked-about deals went through on 22 January, with Henrikh Mkhitaryan going the other way.
Manchester City had been heavily linked with Sanchez, but switched their attention to a move for Leicester's Riyad Mahrez, which they walked away from on deadline day, 24 hours after paying £57m to make defender Aymeric Laporte their club record signing.
According to Deloitte, the Premier League clubs' total spending for the 2017-18 season is an estimated £1.9bn.
"While another record-breaking season catches the eye, Premier League clubs' expenditure continues to be well within their means in the context of revenue generated," said Dan Jones, partner in the company's Sports Business Group.
"Estimated 2017-18 net spend of £755m represents just 17% of forecast 2017-18 Premier League revenue, in line with the average over the 15 years since the first transfer window in January 2003, as clubs increase investment in players in proportion to the overall growth of the football business."
'Big six' flash big bucks
With competition for the Champions League places heating up, Chelsea brought in Giroud and defender Emerson Palmieri from Roma – the latter for £17.6m – while Spurs added PSG winger Moura.
The last of those deals meant spending by the so-called 'big six' – Arsenal, Chelsea, Liverpool, Manchester City, Manchester United and Tottenham – went from just £40,000 in January 2017 to £265m this year.
Those six clubs have traditionally set the tone for spending, but in the past two January windows it is the rest of the division that has been busy, perhaps influenced the league's £5.136bn TV rights deal.
Jones added: "Such is the level of competition for a coveted top-four position in the Premier League, as well as ongoing European battles, that top clubs have been willing to break with more traditional summer investment strategies to steal a march on their rivals mid-season, with several club transfer records being broken in this window."
An inflated market?
#YoPierre – Aubameyang arrives at Arsenal
Arsenal completed the most expensive deadline-day deal when they signed Aubameyang, sparking a peak of 1,639 tweets per minute and more than 280,000 in total about him.
The north London club announced the signing on Twitter using #YoPierre, which was retweeted 77,000 times.
So is it good business for Gunners boss Arsene Wenger, who – after signing £46.5m striker Alexandre Lacazette from Lyon in the summer – has broken the club's transfer record twice in successive windows?
"In the current climate, if you can get someone of his quality, that's not bad value," said former Arsenal and England striker Ian Wright.
"Obviously the proof is in the pudding. Once he starts to get his feet in the Premier League, hopefully he will score the goals Arsenal desperately need at the moment.
"He's got to be excited about what's going on. There shouldn't be a shortage of ammunition."
German football expert Raphael Honigstein added: "Aubameyang is somebody who will definitely add goals for Arsenal, but I don't know if individually he will lift the team to another level. He's not that kind of player.
"He definitely brings pace, finishing and movement. I think he's been criminally overlooked by some of the bigger clubs who might have wanted a more orthodox number nine."
The majority of tweets referencing Aubameyang's move came from Europe, and London in particular, though the map below shows there was plenty of activity in Nigeria and Thailand.
Arsenal's Ozil bonus
Having broken their transfer record to sign Aubameyang, the Gunners secured perhaps one of the most important deals of the window later on deadline day when playmaker Ozil agreed a new three-and-a-half-year contract.
The German, 29, was due to be out of contract in the summer and could have left for free, before signing a new deal worth about £350,000 a week before tax.
Another window closes for Mahrez
Transfer deadline day is becoming a lonely place for Mahrez.
The Leicester winger has a long-standing desire to join a bigger club, and spent the 31 August deadline in a Paris airport waiting for a deal that never materialised.
He asked to leave the Foxes last May, and Italian club Roma had three bids rejected, opting not to increase their offer with Mahrez having stayed behind from international duty in the hope of completing a move.
On Wednesday, 24 hours after handing in a transfer request, the 2016 PFA Players' Player of the Year learned Manchester City were walking away from a deal after refusing to spend more than £60m on him.
So Mahrez remains a Leicester player, but did not travel with Claude Puel's side for their defeat at Everton on Wednesday.
Manchester City baulked at the £95m package Leicester wanted for the 26-year-old. The Premier League leaders have spent £272m on new players this season, and £418m since manager Pep Guardiola's arrival in summer 2016.
"Maybe in the future we are able to buy one player for £100m or something like that," said Guardiola.
"Maybe it is going to happen. But if it happens it will be for a special, special player. At the moment we cannot afford that."
How the window panned out across Europe
Premier League clubs' spending far outweighed that of their European counterparts, despite La Liga side Barcelona paying the biggest fee of the January window when they bought Brazil playmaker Philippe Coutinho from Liverpool in a deal that could be worth £142m.
Quirkier deals of the January window…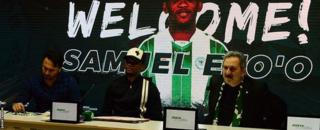 "Samuel Stormborn of the House Eto'o, First of His Name, The Unburnt, King of the Forwards, Breaker of Chains, Father of Eagles…" Former Barcelona, Inter Milan and Chelsea forward Samuel Eto'o got a Game of Thrones-style welcome from new club Konyaspor, following the 36-year-old former Cameroon international's switch from fellow Turkish top-flight outfit Antalyaspor.
Vote for your deal of the window
If you are viewing this page on the BBC News app please click here to vote.