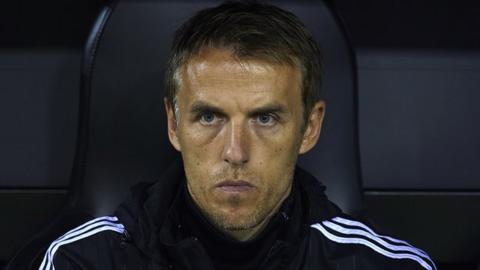 England women's head coach Phil Neville will not be charged over historical sexist remarks made on social media, the Football Association has said.
The comments – made in 2012 and 2011 – came to light in the media the same day he was appointed in his new role.
In a letter to Kick it Out, FA chief executive Martin Glenn said background checks were done on Neville but did not reveal the comments in question.
He added they "would not meet the threshold for issuing a charge".
He also confirmed Neville, awarded a contract until 2021, would be warned about his future conduct but said the 41-year-old took the decision to delete his Twitter account alone.
"Phil will be educated on all aspects of the FA's regulatory functions and his responsibilities," Glenn wrote.
"He will also be warned that any future comments that are deemed to cross the charging threshold will be treated with the utmost seriousness and may lead to disciplinary action."
He added: "The background vetting highlighted some but not all the historic social media comments. For clarity, we were only made aware of some of those comments through the media reporting [on Tuesday]."
Roisin Wood, chief executive of anti-discrimination body Kick it Out, who originally questioned the FA over whether Neville would be charged for making what appeared to be "misogynistic and sexist comments", responded to Glenn's letter on Wednesday evening.
"The FA may also have created a problem for itself in what appears to be double standards regarding the threshold for what social media posts are considered discriminatory," she said.
"They may find it difficult or even impossible to bring charges against those under investigation presently, or in future."
Neville apologises after tweets criticised
How does a man with no managerial experience come to lead England?
Neville apologised earlier on Wednesday after suggesting in one tweet that women would be too "busy making breakfast/getting kids ready" to read his messages.
Other users picked up on comments Neville had made when interacting with his sister and with his wife – and one in which he joked he had "just battered the wife".
The former Manchester United and Valencia coach, who has no experience in the women's game, said his comments were not "a true and genuine reflection of either my character or beliefs".
Neville's wife Julie took to Instagram to support her husband, saying: "In response to some of things I've been reading about my husband over the past 24 hours, I would like to point out that Phil is the most honest, kind, generous, gentle and hard working man I have ever met."
Neville's twin sister, England netball head coach Tracey Neville, also tweeted a message of support for her brother, saying: "He has spent his life showing support to me as a sister, athlete and coach."
'Candidate search spanned 30 countries'
Glenn's letter was written in reply Wood, after she also called for the FA to explain their appointment "of someone with no record of management or experience in women's football".
In his letter, Glenn outlined the recruitment process led by FA director of women's football Sue Campbell, and supported by FA head of women's performance David Faulkner, technical director Dan Ashworth and an external firm.
Glenn said the search for a coach with a minimum A-licence qualification, experience at the highest levels of the game and a preference for being English spanned 30 countries.
But he did admit that the recruitment process did not comply with the recent desire to conform with a so-called Rooney Rule that meant the FA should have interview at least one applicant from a black, Asian and minority ethnic background.
Wood responded by saying it was "difficult to accept" that there were no BAME-qualified candidates who could have been considered for the position.
"We welcome The FA's full account of the process they used to identify suitable candidates," she added.
"The FA has shown it is willing to be open, accountable and provide explanations. We hope that this new openness will be a feature of a changing culture.
"However, there are still outstanding concerns about how the final decision was made to appoint Phil Neville.
"It is difficult to accept that there were no BAME-qualified candidates who could have been considered for the position in the same way Neville was, who did not apply.
"For an organisation that wants to put women's football high up on its agenda, it is equally hard to accept that The FA could not find one qualified woman who could have filled this position"
The search provided 145 candidates that were reduced to a long-list of 47, further reduced to a shortlist of six individuals who were interviewed.
That produced three external candidates – understood to be Manchester City women's boss Nick Cushing, former Arsenal boss Laura Harvey and Canada coach John Herdman – and one internal candidate understood to be interim manager Mo Marley.
But Glenn said in his letter that Cushing, Harvey and Herdman withdrew for "personal reasons", although all three gained new jobs. Marley also withdrew from the process and attempts to return to previous candidates proved unsuccessful for "similar reasons".
"At this stage Sue identified Phil has a potential candidate due to his position as a Pro-Licence holder on the FA's player-to-coach programme," Glenn wrote. "She was immediately impressed by his technical expertise, his outstanding leadership and his desire for the role.
"He then went through background vetting, psychometric testing, and a full technical assessment. His appointment was approved by the FA board."
Analysis
Dan Roan, BBC sports editor
Once again the FA are in damage-limitation mode.
Their attempt to explain why Phil Neville was given the England job raises a number of questions;
Why did the FA struggle to sell such a prestigious job to the shortlisted contenders and fail to find a female candidate willing and qualified to do it?
Why – in the final reckoning – was a track-record of success in management not deemed essential criteria for the job?
Why did their due diligence fail to uncover some of the historic tweets that have landed Neville in trouble?
And why precisely did those tweets not meet the threshold for a charge, yet other historic tweets by players have done?
After the controversy surrounding the sackings of Sam Allardyce and Mark Sampson, and the wisdom in hiring both those men, the handling of this appointment was crucial for the FA. To show they had learned painful lessons from the past.
But Neville has been forced to apologise – and been warned about his conduct – before his feet are even under the desk. He may well yet prove to be a successful coach for the Lionesses and justify the FA's faith, but his tenure has got off to an awful start.