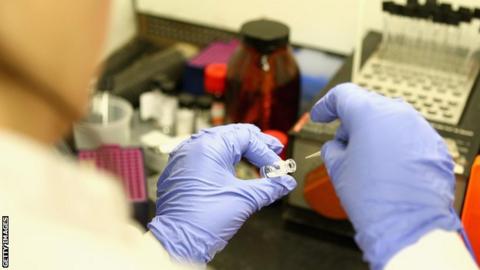 At least a quarter of players who appeared in the English Football League last season were not drugs tested by UK Anti-Doping (Ukad), despite a rise in testing across England's top divisions.
Professor Ivan Waddington, an expert in doping in sport, described the level of testing in the EFL as "unacceptable".
The Football Association said it runs "one of the most comprehensive national anti-doping programmes in world sport".
Tests were up 47% in the Premier League and 24% in the EFL compared to 2015-16.
In the top flight, 1,171 samples were taken from 524 players who made at least one appearance – an average of 2.23 samples per player.
The FA, which records drugs tests differently to Ukad – counting urine and blood samples separately, says the number of tests is set to rise further from "about 3,250 to in excess of 5,000 in 2017-18".
Read more: 'I was only drugs tested once in the Premier League'
Drugs testing in English football compares favourably with the rest of the continent, with Italy the only European country to record more test samples in 2016, according to the World Anti-Doping Agency (Wada).
Ukad, which carries out testing on behalf of the FA, took more samples from football than any other sport during the 2016-17 period – though this does not take into account the number of athletes competing in each sport.
"In the past 12 months there has been a substantial increase in the number of tests," said Waddington, who conducted initial research into the level of drugs testing in football on behalf of the BBC in 2003.
"In the Premier League, the level of testing is acceptable now. But players in the Championship, League One and League Two would probably reasonably not expect to be tested, and that's not good enough.
"The research evidence from other sports – and testing should be research-driven – suggests the greatest level of drug use in sport is not at the very highest level but just below it."
The FA said its anti-doping programme is "research and intelligence-led" and is "weighted towards the highest level of the game and targeted at those players playing the most minutes".
The EFL said it would "absolutely welcome further and enhanced checks made on players", while the Premier League declined to comment further than the FA's statement.
How do we know so many EFL players weren't tested?
Ukad collected 1,494 samples from the 2,047 players to appear in the English Football League during 2016-17, leaving a minimum of 553 players untested.
As Ukad does not disclose how many players were tested multiple times, one player being tested twice would account for two samples.
For every player tested twice, the number of untested players would increase beyond the minimum figure of 553.
What does the EFL say?
"Testing for banned substances within the professional game is conducted by Ukad on behalf of the FA in line with their anti-doping regulations. The current approach to testing is determined by the FA.
"While testing in the EFL has increased proportionately as a result of additional funding being made available, we would absolutely welcome further and enhanced checks made on players within our competitions and have previously campaigned for an increase in excess of the current levels.
"It is frustrating to see EFL players being highlighted in this manner in what is an important and sensitive matter.
"It is important that those who choose to comment on these issues, who may be on the periphery of the game or sit outside it, understand exactly how testing is managed and who is responsible for administering it. It is not the EFL, the clubs or the players.
"We will continue to work with the FA and Ukad to ensure that testing within EFL competitions protects players' integrity."
'The FA commits more funding than any other sport'
Two players were punished for anti-doping violations in English football during the 2016-17 season – Aston Villa Under-18s player Jake Humphries received a five-month ban, and former Accrington midfielder Patrick Lacey was suspended for 14 months.
There were also eight breaches of the FA's social drugs regulations, and three clubs were charged over failures to meet whereabouts rules.
Ukad director of operations Pat Myhill told BBC Sport: "The FA commits more funding than any sport in the UK in supporting the Ukad athlete testing programme in football.
"We were pleased to see the FA increase its funding for the testing programme in 2017, and would welcome similar steps from other sports."
The FA said it also tests for social drugs out of competition "to safeguard the physical health and mental well-being of players, uphold the ethics of the sport and protect the image of the game".
What's the full breakdown in English football?
In the Premier League, 1,171 samples were taken – equivalent to 2.23 samples per player.
In the Championship, 706 samples were taken – equivalent to nearly one sample per player.
In League One, 407 samples were taken – equivalent to 0.56 samples per player.
In League Two, 381 samples were taken – equivalent to 0.54 samples per player.
In the National League, four samples were taken – equivalent to 0.005 samples per player.
These figures, obtained by BBC Sport under the Freedom of Information Act, do not include samples collected from under-18 and under-23 squads, or from national squads. Any players or teams competing in European competitions are additionally subject to Uefa's anti-doping programmes.
Only four tests in the National League
In the National League – the top tier of non-league football – only four samples were taken from the 768 players who made an appearance last season.
In 2015-16, BBC Sport found no such samples were obtained by Ukad.
"We understand that National League footballers can be tested at any time by UK Anti-Doping," said a National League spokesperson.
"The FA provides all National League clubs with educational literature to distribute to their players, and the FA's integrity team makes visits to National League clubs each season to advise players and staff on a range of issues, including anti-doping."
How do other countries compare?
Globally, only the anti-doping programmes in Brazil (4,769) and Italy (2,557) saw more samples obtained from footballers than in England during 2016, according to Wada.
Testing numbers in France (558) were lower than Algeria and Saudi Arabia, while Romania and the UAE were among the countries to collect more samples from footballers than Spain's national anti-doping agency (185).
On top of testing by individual nations' anti-doping agencies, Uefa obtained 3,335 samples in the year, while Fifa gathered a further 870.
What about other sports?
While there are more professionals playing football in England than any other sport, far less testing is carried out on behalf of the respective national governing bodies for cricket, rugby union and rugby league.
The 2,912 samples obtained from footballers by Ukad for the FA between 1 July 2016 and 30 June 2017 is nearly six times the amount obtained on behalf of the Rugby Football League (493) and the Rugby Football Union (462) over the same period.
The RFU released its annual report for 2016-17 on 15 February, with anti-doping programme manager Stephen Watkins insisting the organisation's testing figures "are some of the highest in rugby union globally".
Just 187 samples were obtained on behalf of the England Wales Cricket Board, although – as with other sports – further tests were carried out by international bodies.
Many individual sports are also covered widely by international agencies, with Ukad's figures for athletics, cycling and swimming subsequently scarce in comparison to football.
But Waddington says "elite footballers in England are much less likely to be tested than athletes in other sports", adding "you know with certainty that you will be tested at least once and probably three or four times a year if you are elite track and field athlete".