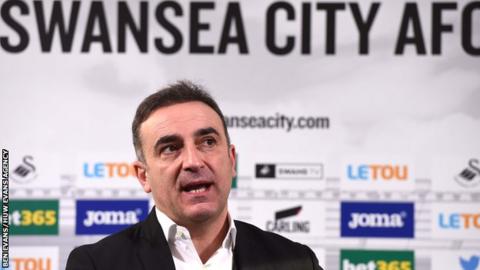 Swansea's new manager Carlos Carvalhal has vowed to "fight" to keep the club in the Premier League, saying "miracles are not from our world".
Carvalhal, appointed on Thursday after being sacked by Sheffield Wednesday on Christmas Eve, has taken his first training session with the bottom club.
The Swans are five points from safety going into Saturday's game at Watford.
"A lot of people will say just a miracle will help Swansea stay in the Premier League," said the Portuguese.
But the 52-year-old former Besiktas, Sporting Lisbon and Maritimo boss added: "I don't agree because miracles are not from our world.
"It will be very difficult – everybody knows that, everybody understands that. If you ask 100 people who understand football, most of them will say Swansea this season don't have any chance.
"This is the general idea, but it is not our idea.
"It's a hard job, hard work – but we believe we can do that. That is why we are here: to move things, to try to give the team a new dynamic, to try to score more goals – and also for our fans to enjoy what they are seeing."
Player-coach Leon Britton had been in temporary charge of the first team since Paul Clement was dismissed on 20 December following a run of only three wins in their opening 18 league matches.
Carvalhal, who guided Wednesday to the Championship play-offs in the past two seasons, will bring in his own coaching staff and will decide on Britton's future in the next few days.
"I am absolutely sure he deserves a lot of respect at the club," said Carvalhal. "We'll consider the importance he has at the club. Let us see in which position he can help more."
Carvalhal becomes Swansea's sixth permanent manager in three years having initially agreed a contract until the end of the season, with an option for an extension.
"It is not the paper which is important to me," he said of his deal. "To me the situation is very clear: you must prove your abilities.
"If we do the things the correct way, we believe we will stay here probably for a long time. If you don't do the things well, even if you have a contract, you will not stay here."
Carvalhal will bring in his own coaching staff and will decide on the future of player-assistant coach Leon Britton in the next few days.
Britton took temporary charge of team affairs for two games following the sacking of previous boss Paul Clement, who helped the Welsh club avoid relegation last season.
The Portuguese said he has not yet spoken to the Welsh club's chairman Huw Jenkins about spending in the January transfer window.
"I'm allergic to money," Carvalhal joked, adding: "At this moment, it is important to give an opportunity to the players.
"I will give the opportunity to all of them to show they are better players than they have shown so far – after this we will analyse the weaknesses of the team.
"If after that we analyse a position where we are weak, or we only have a player for one position and we need two, we will try to cover the situation."