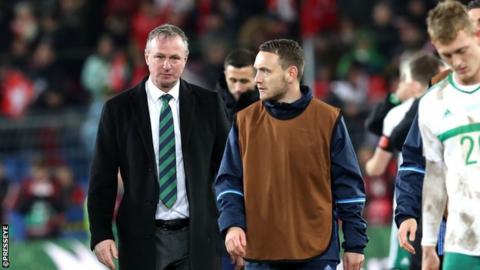 The Irish Football Association is planning further contract negotiations with Michael O'Neill in the new year.
O'Neill, who has also been linked with the Scotland manager's job, will be offered a six-year contract to continue as Northern Ireland boss until 2024.
The two sides held preliminary talks before Christmas and have agreed to meet again in early 2018.
O'Neill, who has two years left on his contract, is interested in how the IFA plans to develop their underage teams.
The former Northern Ireland international, 48, has spoken to the association about how they hope to expand their youth development and how his appointment would fit into their long-term plans.
O'Neill was also consulted about the tour of Central America next summer, which will feature friendly internationals against Panama and Costa Rica.
After helping his country to qualify for Euro 2016, O'Neill's reputation was further enhanced during Northern Ireland's World Cup qualifying campaign, which ended in a narrow play-off defeat by Switzerland.
"I hope to get the team to another European Championship – it's not a job I'm going to leave easily," O'Neill told BBC Sport NI earlier this month.
"There's been a lot of speculation but I've still two years left on my contract.
"People are always assuming that I'm going to make a decision to leave the position but I've never said that.
"I know the Scottish FA has indicated they would like to speak with me but there's been nothing more than that."
The ex-Shamrock Rovers manger has also been linked with a return to club management, with West Brom and Sunderland both understood to be interested in recruiting O'Neill before opting to appoint Alan Pardew and Chris Coleman respectively.