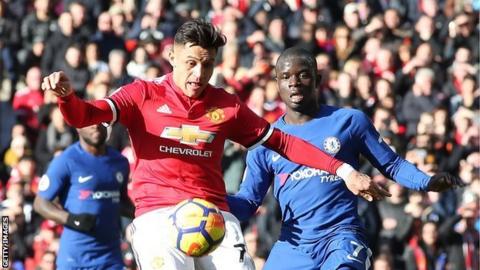 Manchester United are not getting the best out of Alexis Sanchez, says manager Jose Mourinho.
Chile international Sanchez, 29, joined in January from Arsenal on a four-and-half-year contract in a swap deal with midfielder Henrikh Mkhitaryan.
But the forward has scored only once in eight appearances since arriving at Old Trafford.
"He is learning how to play with us and we are learning how to get the best out of him," said Mourinho.
The difficulties of integrating a player midway through the season mean Mourinho is not a fan of the January transfer market.
"What is wrong is that he came at the worst moment of the season, in the winter market," the Portuguese said.
"That's why I don't like the winter market very much. I think [signing Sanchez] was a chance that we didn't want to lose and we made it, but we don't believe a lot in the winter market.
"For sure next season will be better for him."
Man Utd v Liverpool is 'biggest game I can imagine'
McTominay 'a great coup for Scotland'
Some pundits have suggested that incorporating Sanchez into United's attacking framework has caused problems elsewhere and notably affected the form of Paul Pogba.
The Portuguese boss dismisses that idea though.
"That's something that we can develop and we're going to develop with time, with experience and living these experiences together," Mourinho said.
"I don't consider that a weakness, I consider that a huge potential to be developed."
Despite Sanchez's lack of goals, Mourinho has been pleased with the effort the former Barcelona forward is putting in to get things right.
"That's great," Mourinho added. "[He is] not afraid to take responsibilities, not afraid to try to make things happen. When he feels that he's not as dangerous as he likes to be, he drops back, he tries things.
"When he makes mistakes he tries to compensate immediately with fantastic spirit, with a great transition to try and win back the ball. We are very happy."