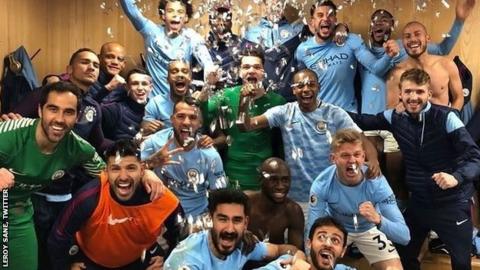 Manchester United and Manchester City will face no action over an incident that took place in the tunnel after the derby on 10 December, the Football Association has said.
United boss Jose Mourinho had water and milk thrown at him and City coach Mikel Arteta suffered a cut head during a post-match row.
The FA said it considered evidence from "clubs and independent eyewitnesses".
Mourinho will also not face action from the FA over his pre-match comments.
However, the FA has reminded the Portuguese that any further public comments about match officials may result in disciplinary action.
The tunnel incident arose after what United viewed as an excessive celebration following City's 2-1 win at Old Trafford, which sent them 11 points clear at the top of the Premier League.
City's players celebrated in front of their fans after the final whistle.
After the players headed down the tunnel, it is understood that Mourinho made his feelings known outside the visitors' dressing room as he made his way to post-match interviews.
A one-pint milk carton – which had been in the City dressing room for tea and coffee – was thrown at Mourinho. The United manager did not get splattered but a member of his staff was.
City's Brazil goalkeeper Ederson and Mourinho exchanged angry words in Portuguese – but Mourinho carried out his post-match media engagements as normal and made no mention of the row.
Arteta was left with a cut after he was hit by a plastic drinks bottle, but it is not known who threw it and sources from both clubs said no punches were thrown.
'If we offended United, I apologise'
Afterwards, Manchester City manager Pep Guardiola said he was sorry if his side's celebrations had offended Manchester United, but that his players "have to enjoy those moments".
"If we offended United – not just one player, not Jose – Manchester United, then I apologise," the Spaniard said.
"We have to enjoy those moments. If the people cannot understand that then I'm sorry. We won a derby.
"If we were not correct than I apologise to all of Manchester United. Our intentions was not that. It was to celebrate inside the locker room."
Mourinho, meanwhile, said the incident was "a question of diversity in behaviour, diversity in education".
No action over Mourinho comments
The FA also asked the Manchester United boss to clarify comments he made before the derby.
In his pre-match news conference on the Friday before the game, Mourinho said the referee needed to be aware of City's "tactical fouling".
Mourinho suggested City players go to ground easily, saying: "A little bit of wind and they fall."
He added that he did not think he would be allowed to make a political statement on the touchline like Guardiola, who has recently worn a yellow ribbon – a symbol of protest against the imprisonment of pro-independence politicians in the Spanish region of Catalonia.
But the FA said that, "following a review of the evidence provided by the club", it will take no formal action against Mourinho.