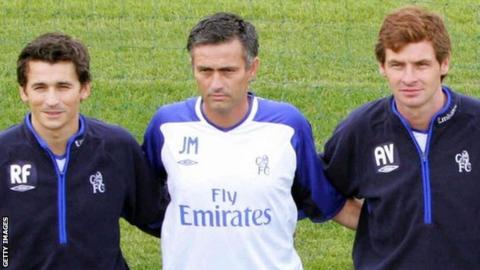 Manchester United boss Jose Mourinho says he would "help pack and carry" assistant Rui Faria's bags should Arsenal want him as their new manager.
It has been reported Faria, 42, is on Arsenal's shortlist to replace Arsene Wenger, who will leave at the end of the season after 22 years in charge.
Faria has been assistant to Mourinho at six clubs since they combined at Porto 14 years ago, winning 25 trophies.
Mourinho said his number two would be a "good fit" for the job.
"I say it because, more than because he is my assistant, he is my friend," the Portuguese said.
"If my friend one day has the possibility of a big job, I would help him to pack and carry the bags and to wish him luck.
"I met him when he was a kid at university and we worked together for 18 years. He is a big friend more than an assistant.
"If one day the moment arrives I would be very happy."
Liverpool's assistant manager Zeljko Buvac has also been suggested as a potential successor to Wenger – the German is currently spending time away from the Merseyside club for personal reasons.
Former Gunners Mikel Arteta and Patrick Vieira have have also been mentioned, as have former Barcelona coach Luis Enrique and Juventus manager Massimiliano Allegri.