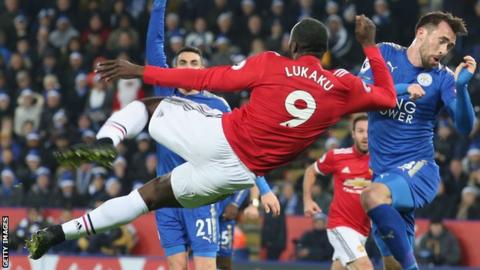 Striker Romelu Lukaku decided to leave Everton after a "voodoo message" told him to join Chelsea, the Merseyside club's major shareholder has claimed.
The Belgium international, 24, eventually joined Manchester United for an initial £75m last summer.
Farhad Moshiri told a shareholders' meeting the player received the message "on a pilgrimage to Africa" having been set to sign a new deal at Everton.
"He had a voodoo and got the message he needs to go to Chelsea," said Moshiri.
Premier League champions Chelsea had bid for Lukaku, but he opted instead to join Jose Mourinho's Manchester United.
Last March Lukaku's agent, Mino Raiola, had claimed a new deal to remain at Everton was "99.9% done".
"We offered him a better deal than Chelsea and his agent came to Finch Farm to sign the contract," Moshiri told Everton's annual general meeting.
"Robert [Elstone, chief executive] was there, everything was in place, there were a few reporters outside," he added.
Moshiri said Lukaku then "called his mother" before the player revealed he had received the message telling him to join Chelsea.
Iranian billionaire Moshiri, who has put £150m of his own money into the Merseyside club to clear debts, said the Toffees offered the striker an "unbelievable" amount of money to stay.
"The issue with Romelu was not financial. As long as I am major shareholder, financial issues are irrelevant," he said.
"I wasted two summers to keep him. First summer with his agent, him and his family we managed to keep him. Last summer we offered him a better deal than Chelsea – whatever they offered we matched but he just didn't want to stay.
"If I tell you what we offered him you wouldn't believe it, but they offered him a better deal."
Lukaku spent time on holiday in Los Angeles last summer with his friend, Manchester United midfielder Paul Pogba, and Moshiri says it proved impossible to convince him to stay at Everton.
"I got close to Rom, I like the boy, he's a good boy, and I used all my charm to keep him and I flatly failed," he added.
"The issue was his brain had gone. He was in LA and he wouldn't come back."
Moshiri was similarly unsuccessful in trying to keep Ross Barkley, who joined Chelsea last week after backing out of a £35m deal to move to the London side on transfer deadline day in August.
"I didn't spent as much time to keep Ross as I did Rom," added Moshiri.
The meeting also heard more on the club's plans for a new stadium at Bramley-Moore Dock, which are progressing – but so are costs. Chairman Bill Kenwright said the development, which the club hope to be playing in by 2022, would cost £500m.
"Half a billion is the estimate. Half a billion is what we are dealing with," he said.