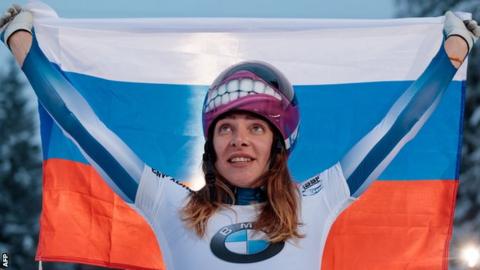 Sports leaders have been accused of making "craven and spineless" decisions, after life bans given to Russian athletes were overturned.
British International Olympic Committee (IOC) member Adam Pengilly told BBC Sport he was "appalled and angry" after the Court of Arbitration for Sport (Cas) overturned the suspensions of 28 Russians for doping, and partially upheld 11 other appeals.
"It is a desperate and dark day for sport, with cheats and thieves allowed to triumph," said Pengilly.
Cas said evidence was "insufficient" to prove doping in 28 cases, though the IOC insisted the ruling did not mean the athletes would be invited to this month's Winter Olympics in Pyeongchang, where 169 of their compatriots are being allowed to compete as neutrals after the country was officially banned.
"Cas has failed here," said Pengilly, a former skeleton athlete who is also vice-president of the International Bobsleigh and Skeleton Federation (IBSF).
"We need to take a long, hard look at sport's leading administrators and sport's legal system when we see the greatest fraud at an Olympic Games and years of institutional doping conspiracy pass by with only minor punishment.
"The silent and clean majority are being made to suffer through having to attain a ridiculous burden of proof and by the craven and spineless decisions of those who lead."
'Avoid elite sport like the plague'
Last year, 43 Russians were banned for life after an IOC investigation into state-sponsored doping at their home Sochi Games in 2014.
The Oswald Commission, tasked with looking into individual cases of doping, was opened following the findings of the World Anti-Doping Agency's McLaren report.
It concluded Russian athletes benefited from a state-sponsored doping programme between 2011 and 2015, speaking of "a cover-up that evolved from uncontrolled chaos to an institutionalised and disciplined medal-winning conspiracy".
"Today I have found myself apologising to individual athletes who have had dreams, medals, money and most importantly, faith in sport, stolen from them," said Pengilly, the only IOC member to publicly oppose the IOC executive board's stance on Russia's inclusion in the Rio 2016 Olympics.
"They now think that you are better off cheating or getting your nation to establish a doping system because even if it is discovered, the consequences are minimal. Or, if you don't want to cheat, avoid elite sport like the plague."
In reaching its decision, Cas said it considered testimony from experts including former Russian anti-doping official and whistleblower Dr Grigory Rodchenkov and Canadian lawyer Professor Richard McLaren, who authored a damning 2016 report into doping in Russia.
Pengilly added: "When McLaren and the Oswald Commission regard Rodchenkov's evidence as credible and truthful, and it is backed up by forensic evidence, yet Cas obviously don't accept it, what more do you have to do?"
Usada switches blame back to IOC
Rodchenkov's lawyers criticised the decision, stating "clean sport is dead".
The IOC said the decision by Cas "may have a serious impact on the future fight against doping", while the US Anti-Doping Agency focused the blame back on the IOC, calling the situation a "sorry mess".
Its chief executive, Travis Tygart, said: "The IOC's failure to swiftly and decisively deal with Russia's unprecedented attack on fair play has eroded public trust in the values of the Olympic movement.
"Slamming dozens of cases through the process on the eve of the Olympic Games has not served justice and as such the integrity of the Games has been sabotaged.
"The whole sorry mess truly stinks and the nightmare continues for clean athletes. This must change."
How did Cas arrive at a decision?
Russia's sports minister Pavel Kolobkov said "justice has finally triumphed", insisting those who were accused of doping were "clean athletes".
Cas said its mandate was not to "determine generally whether there was an organised scheme allowing the manipulation of doping control samples in the Sochi laboratory".
Instead it said it was "strictly limited to dealing with 39 individual cases and to assess the evidence applicable to each athlete on an individual basis".
The body's secretary general, Matthieu Reeb, said there was only "circumstantial evidence" that supported individual claims of doping.
He added: "It is a matter where there is no direct evidence, such as positive test or a voluntary admission.
"This does not mean that the 28 athletes are declared innocent, but due to insufficient evidence the appeals are upheld, the sanctions annulled and their results in Sochi are reinstated."
'A confused judgment'
World Anti-Doping Agency president Sir Craig Reedie said he had "serious concerns" about the Cas decision.
He told BBC Radio 5 live the judgment was "confused" because 11 athletes had not been fully exonerated.
"By so doing, Cas must recognise there was an institutionalised conspiracy going on," he said. "The institutionalised conspiracy must have applied to the other 28 as to the 11".
He added: "It's not good news because it creates confusion and it creates dismay in the minds of all the clean athletes who have been affected by this institutionalised conspiracy that has been going on in Russia for years."