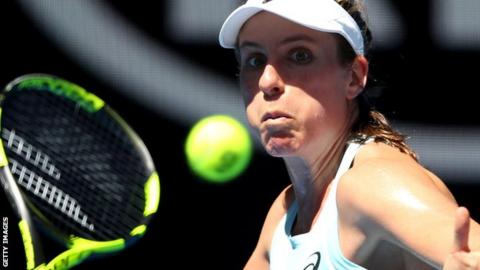 British number one Johanna Konta made swift progress into the second round of the Australian Open with victory over American Madison Brengle.
Konta, seeded ninth, won 6-3 6-1 on Hisense Arena, the third show court at Melbourne Park.
The Briton had lost three of their four previous matches but was far too strong for the world number 90 this time.
Konta, 26, goes on to face American Bernarda Pera, the world number 123, in round two.
Sharapova through on Melbourne return
Pliskova Garcia reach round two
Live scores, schedule and results
BBC coverage times
"I was actually really enjoying being out there," said Konta. "It was a nice day. It was sunny. It was quite a full stadium. There was a lot of people.
"I kind of tried to absorb the atmosphere a little bit. I was really excited to play.
"I thought it was a great first round for me to fight through and battle through and stay strong in the way I wanted to play out there. And I feel I did that."
'I've matured physically, emotionally and mentally'
Konta's rise through the rankings over the last two years has been such that, despite now being well established in the top 10, she is making only her third appearance in the main draw.
She has plenty to live up to after reaching the semi-finals in 2016 and quarter-finals in 2017, both times losing to the eventual champion.
After a worrying end to last season that saw her lose five matches in a row, Konta appears to be back on track under the guidance of new coach Michael Joyce.
She had far too much for Brengle, whose early victories against Konta came when the Briton was a very different player.
"I have matured physically but also emotionally and mentally," said Konta.
"I think Madison is the kind of player who does ask a lot of questions of the people she plays. She gets a lot of balls back. I think you need patience to also play with her.
"For me, personally, that's definitely one thing I have gotten better at over the years."
Konta winners too much for Brengle
Brengle's lack of power on serve proved tricky in the opening stages as Konta searched for rhythm on her return, and the Briton would end the match with 34 unforced errors.
However, a first-serve percentage of 71% meant Konta was dictating points for much of the time and she finished with a crushing 37 winners to Brengle's four.
A sharp backhand slice down the line brought the first break of serve in game three and Konta moved a double-break up with a drive volley for 5-2.
With the contest in her hands it took three errors in a row from Konta to give Brengle some hope, and a break back, at 5-3, but a ruthless return game followed and the first set was hers.
A forehand winner gave Konta a 3-1 lead in the second set, but there were still signs of areas to work on before tougher tests with some loose work around the net.
Konta made sure wasted energy would not be a problem as she accelerated towards the finish line, a rasping forehand return taking her 5-1 in front.
A testing game followed as Brengle clung on until Konta converted her fourth match point, securing her place in round two on Thursday, when the temperature is forecast to rise dramatically.
"I'll love it," said Konta. "I'm really looking forward to that. I love the Australian heat."
'Blueberry debacle' fails to derail Konta
Konta revealed after the match that she had managed to concentrate on her tennis despite suffering a recent "blueberry debacle" in Melbourne.
The world number 10 posted a message on social media on Monday saying she had "just bought blueberries and forgot them at the store".
Asked about this seemingly innocuous incident, Konta said: "Oh, my goodness. I don't want to talk about it.
"Honestly. I messaged everybody. Literally everybody on my team. Has this happened to anyone else?
"It's $5 I won't get back. It's actually more the betrayal in my own mind I feel so upset about. I was so sad."