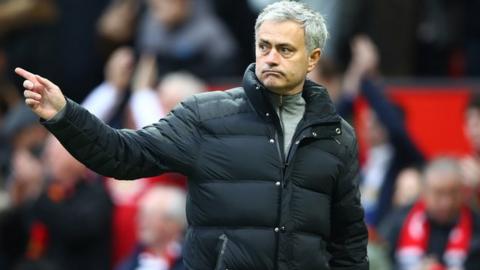 Jose Mourinho has described claims he is ready to leave Manchester United at the end of the season as "garbage".
Mourinho is in discussions over a new contract but it has been claimed he is so unhappy at Old Trafford that he is ready to walk away.
His commitment has also been questioned as he continues to live in a hotel rather than move into his own house.
"I say garbage. I don't find a better word than to define the talk," Mourinho said.
"The worst thing someone can do is put one inch of doubt into my professionalism, to every detail related to my job, so yes the garbage news affected me just on this aspect because it's something I don't admit.
"I repeat I am in the middle of my contract, if I am going to sign a new one it depends on the club but my commitment is total and I want to stay."
Mourinho, whose current deal does not expire until 2019, is in the second year of a three-year contract.
It is understood detailed conversations have taken place between United executive vice-chairman Ed Woodward and Mourinho's advisers over extending his stay at Old Trafford.
"I see myself here," added Mourinho. "It is just a question of the club, the board the owners, Mr Woodward, they are all happy with my contribution and they want me to stay beyond the end of this contract."
The Portuguese also addressed his apparent unhappiness at his present situation.
"Because I don't behave as a clown on the touchline? It means I lost my passion?" said the 54-year-old.
"I prefer to do it the way I do it, much more mature, better for my team and myself, you don't have to behave like a crazy guy on the touchline.
"The way a person is dedicated to his work, not what you do in front of the cameras."
It is thought that sources inside Manchester United have been bewildered by speculation over Mourinho's future.
They remain adamant that Mourinho is happy at Old Trafford, despite obvious frustration at being 15 points adrift of a Manchester City side managed by his old rival Pep Guardiola.
United beat Everton 2-0 in their most recent match but drew three games – against Leicester, Burnley and Southampton – over the Christmas period.
Club sources, however, believe that Mourinho remains a jovial figure at United's Carrington training complex and dispute a claim that he has become withdrawn and rarely speaks to staff.
In addition, they say while Mourinho does travel down to his home in London, where his family still live, the United boss is present on the training ground whenever the first team is there – unlike Sir Alex Ferguson, who in his latter years was not averse to missing the odd session.
The Portuguese also shrugged off the hotel issue, saying his choice not to buy a home is down to him being "very lazy".
"If the fans want me to be comfortable, that's the way I feel very comfortable," he said.
"I don't want anyone to be worried because I live in a two square metres room, I am living in an apartment inside of a hotel, where I have all the comfort, the support, where I have everything I want.
"If they want me in some house that I don't like, in some place I don't like, lonely from my assistants, if they want that, I would be a sad guy and a sad guy doesn't work well."
Mourinho has made his feelings known both inside and outside the club that more needs to be spent on his squad to make it competitive.
However, inside Old Trafford this has been viewed as an observation the squad Mourinho inherited was inferior to that of Manchester City, rather than an outright attack on the money he has been given during his 18 months in charge.
Mourinho evidently wants to strengthen his squad, although United have already told Inter Milan they are not willing to enter into a loan agreement for Armenian midfielder Henrikh Mkhitaryan and would only consider a straight sale.
However, Inter are not in a position to buy Mkhitaryan outright because of Financial Fair Play restrictions imposed by Uefa.
Relations between the clubs became strained in the summer during United's attempt to sign Ivan Perisic.