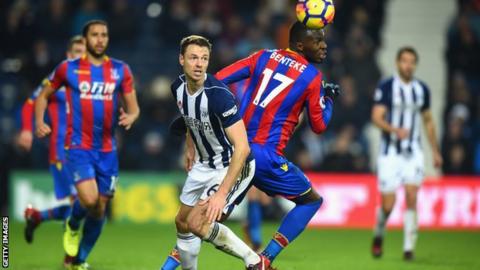 West Brom captain Jonny Evans is set to leave next month after the club failed to persuade the Northern Ireland defender to sign a new contract.
Evans has 18 months on his present deal and it's understood he has no intention of extending his stay at the Hawthorns.
Manchester City, Arsenal and Leicester all expressed interest in the former Manchester United man in the summer.
The West Brom boss at the time, Tony Pulis, refused to do business because he did not have a replacement.
West Brom boss Alan Pardew 'fears' losing captain in January
West Brom: Man City target Jonny Evans future needs to be sorted
Despite the arrival of Alan Pardew, Evans, 29, has still not signed a new deal.
Unless that situation changes, it is understood West Brom will listen to offers, although given Evans' contract position, it is highly unlikely they will get the £30m fee it was hoped they would receive in the summer.
Pardew said: "I think you have to be realistic in these situations. Jonny is a top player, other clubs were interested in him in the summer. We know that and he knows that, we have to be intelligent and straightforward dealing with it.
"He is under contract for West Brom. He knows he can have those conversations [about a new deal] with us.
"We will give him the best deal we can possibly go to on the financial side and length of contract, but that might not be the whole thing with Jonny."
West Brom are on a club record 17-game winless run in all competitions and Pulis lost his job in November.
Pardew is yet to win in four matches and has told the players, given their position in the table, they cannot have a Christmas party.
The Baggies did host a squad Christmas lunch at the training ground on Thursday but Pardew is against the idea of a party.
"I said to the players when I arrived I don't think Christmas parties are appropriate in the position we're in. So the staff haven't had a party and the players haven't had a party," he said.