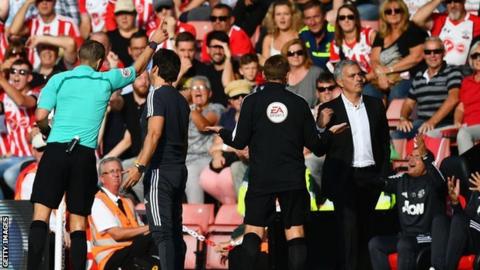 Manchester United manager Jose Mourinho says he should win an award for his behaviour on the touchline.
The Portuguese coach has been sent to the stands on several occasions during his managerial career following clashes with fourth officials.
However, Mourinho says he has changed his ways and feels he is now one of the Premier League's best behaved managers.
"I'm fully committed to win the award this season of the best-behaved manager on the touchline," Mourinho said.
"I'm serious – I prepare myself, I'm really happy. I'm not free of losing my temper, my control, in one match. I'm not perfect.
"There are so many awards – performance of the week, manager of the month and this and that – they should give one to the guy that behaves best on the touchline and it should be the fourth official to vote. I'm pretty sure that I would win."
Mourinho has been sent to the stands once this season – during the 1-0 win at Southampton on 23 September. The United boss had encroached on to the pitch in the final few seconds of the game as he tried to get his players back into position.
He added: "I didn't create one problem to one fourth official on a touchline, apart from my red card at Southampton when I put a foot on the pitch.
"I'm not going from the Bad One to the Perfect One, no way, but I try, I make an effort and I'm happy with the way things are going."
Manchester United, who are second in the Premier League, play Newcastle at St James' Park on Sunday (kick-off 14:15 GMT).