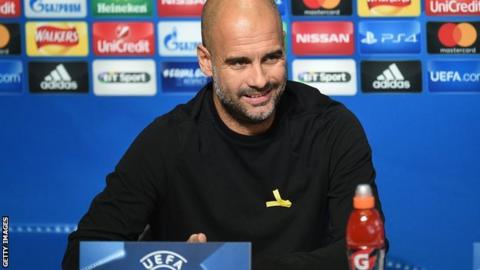 Manchester United boss Jose Mourinho does not think he would be allowed to make a political statement on the touchline like Manchester City counterpart Pep Guardiola.
Guardiola has recently worn a yellow ribbon – a symbol of protest against the imprisonment of pro-independence politicians in the Spanish region of Catalonia.
He dedicated City's Champions League win over Napoli last month to the campaigners.
Mourinho said: "If the rules allow us to do that, he is a free citizen. My doubt is if the rules allow any political message on the pitch.
"I don't think I would be allowed to."
Guardiola and Mourinho, who meet in the Manchester derby at Old Trafford on Sunday, have been rivals since the former was Barcelona boss and the latter was at Real Madrid between 2010 and 2012.
If City win Sunday's game it will be their 14th league victory in a row – a record in a single Premier League season.
Guardiola, who was born in the Catalan region, has worn the ribbons to show his support for eight government members jailed for their part in an independence referendum the Spanish government ruled was illegal on 1 October.
Speaking last month, he said: "We cannot ignore that these politicians or activists, who haven't hurt anyone, are in prison for asking to vote.
"Many things have happened but it's all because we wanted to vote, because we wanted a legal referendum."
In 2015, Uefa fined Barcelona £21,250 after their fans unfurled pro-independence banners at the Champions League final in Berlin.
Eighteen years earlier, European football's governing body fined Liverpool striker Robbie Fowler £900 for revealing a shirt showing support for sacked dockworkers in the city.
Uefa changed its regulations before this season so only offensive messages are now considered illicit.
Last year, the Football Associations of England, Scotland, Wales and Northern Ireland were fined by Fifa for displaying poppies during World Cup qualifiers.
'A little bit of wind and they fall'
Mourinho spoke only briefly about a rivalry with Guardiola which was at its most intense when the pair were managing in Spain.
Asked to assess the merits of the Spaniard's team, he said: "They are a good team. They defend well, they react well when they lose the ball. They have a good dynamic in attack, have creative movement, amazing players and a fantastic coach."
But he added: "The one thing I don't like a lot is that they lose their balance very easily. A little a bit of wind and they fall."
Arsenal manager Arsene Wenger told BBC Sport last month that City winger Raheem Sterling "dives very well".
Who will win the Manchester and Merseyside derbies?
Is stopping Sane and Sterling the secret to derby success?
Guardiola not thinking about record
Speaking at his pre-match news conference, Guardiola said the chance to make history with a 14th successive league win was not playing on his mind.
He said his focus was only on developing a strategy to beat Mourinho's side.
"The record will be broken, my concern is how we win the game," he said.
"If you play one game thinking about records you forget what you have to do."
If City win at Old Trafford they will move 11 points clear but Guardiola believes it is far too early to suggest the match could be a title decider.
"Winning, drawing or losing on Sunday, we are not going to win or lose the Premier League," he added.
Who makes your combined XI?
We asked you to create your starting XI from the combined squads of Manchester United and Manchester City, and from almost 90,000 teams selected, this was the most popular.
Pick your combined XI here
City midfielder Kevin de Bruyne was the most-picked player, closely followed by United goalkeeper David de Gea.
John Stones narrowly missed out on taking one of the centre-back berths, and while United's Antonio Valencia was among the top 11 most-popular players, he failed to make the cut because City's Kyle Walker was by far the most selected player at right-back and right wing-back.
Raheem Sterling has been in superb form for City, and he was the highest-ranked attacking player to miss out on the XI, with United midfielder Nemanja Matic also falling just short of the team.
Data recorded from 00:01 GMT on Wednesday, December to 12:00 GMT on Friday, 8 December.