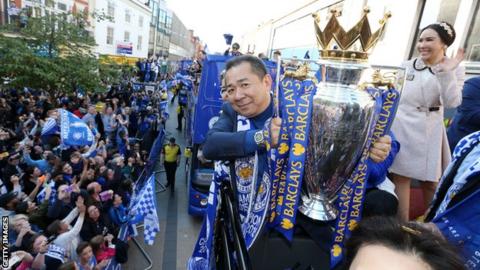 At the end-of-season awards after Leicester's remarkable Premier League title victory in 2016, the players, staff and invited guests were all celebrating.
But the room truly erupted when an announcement was made that the club's Thai owner Vichai Srivaddhanaprabha had just donated £1m to the nearby Royal Leicester Infirmary.
"He was a billionaire – a very wealthy and successful man," says BBC Leicester's Ian Stringer, who was at that event. "But also so humble and lovely."
The club is now mourning the death of its 61-year-old owner in a helicopter crash outside the King Power Stadium on Saturday.
Worth an estimated $3.8bn (£2.9bn), Srivaddhanaprabha was chairman of duty-free company King Power International Group.
He bought Leicester in 2010 for £39m, cleared their debts and saw the club win promotion to the top flight four years later. They then beat odds of 5,000-1 to claim the Premier League title in 2015-16 in one of the greatest sporting stories of all time.
But the fourth-richest man in Thailand was notoriously private and very rarely gave interviews – so what else do we know about the billionaire, benefactor and architect of Leicester's fairytale story?
Wine, gambling, polo – the pursuits of a private 'enigma'
"There was a massive transformation of both his profile and image with the extraordinary success Leicester saw in 2016," says BBC South East Asia correspondent Jonathan Head. "His commitment to the club is beyond dispute.
"But here in Thailand he had a rather different profile. He was very well known for founding King Power, which has a very controversial monopoly of Thailand's duty-free sales. That has boomed during the massive rise in tourism in the past 20 to 30 years.
"He was a very private man and the company itself is a very secretive company. Not a lot is known about him. He founded the company in 1989 and achieved very quick wealth."
Srivaddhanaprabha – who was ethnic Chinese – had four children, all of whom had been involved in the King Power company, which Head says is the "typical" model for a Chinese family-run business.
"He never gave interviews," adds Head. "So although much loved in Leicester, he remained something of an enigma."
The owner would fly up for Leicester's home games in his helicopter from his property in London – or his other house in Berkshire, where he kept his horses – then return the same way.
"He loved living in the UK and loved the lifestyle his enormous wealth could bring," says Head. "He was a great connoisseur of fine wines, he loved gambling and he loved horses.
"He was often seen with British royalty, taking part with his sons in polo contests. He really adored the high life of elite society in Britain."
Head said Srivaddhanaprabha's reputation both in Britain and Thailand as a "generous donator" to "high-profile community projects" resulted in him being recognised by Thai royalty.
"It's very typical of large businesses who have such a hold on lucrative parts of the Thailand economy. They're almost expected to give back to charities – particularly connected to the royal family.
"He was given the enormous status of a royally bestowed name about seven years ago.
"He was the fourth-wealthiest man here in Thailand and – in a country where you have some extreme wealth – that's a hell of a position to have achieved for a man who only started his company back in 1989."
Monks, free cakes and time for normal fans
It is also the owner's small gestures that made such an impact in his time at the club.
Srivaddhanaprabha would fly over Thai Buddhist monks to bless the players before games to bring the team good luck.
Stringer said: "I'm a local guy. I have followed the club for about 10 years and I remember them taking over and have generated a relationship with them. I have seen them in Thailand and Bangkok, in their home surroundings, they are really nice people.
"He celebrated his birthday by handing out cake. He bought drinks for travelling supporters, bought breakfast and scarves for those on away trips.
"In the past 10 days the local council approved a new £100m training ground to be developed. The chairman was the saviour of the football club and taken it to heights no-one expected."
Leicester City Supporters Club chairman Cliff Ginetta said: "The family are very, very popular with the people of Leicester. They are loved by the Leicester public for what they have done to the football club and for what they have done for the city.
"They have put the city on the map worldwide. They've put millions of pounds into the club and lots and lots of money into local hospitals, children's care. At Christmas time, it's free mince pies and a drink – and that's the way they are."
The football miracle
It was one of the most remarkable stories in the history of British sport – and one where many football fans from other teams took Leicester into their hearts.
The Foxes won the Premier League under Claudio Ranieri in 2016 having been 5,000-1 at the start of the campaign, and having only narrowly escaped relegation the season before.
After Leicester were promoted to the English top flight in 2014, the owner spoke of his plans for a top-five finish within three years.
It was a claim that raised more than a few smiles up and down the country.
But Srivaddhanaprabha's astute appointment of Ranieri in July 2015 proved key to what was to follow, as was the faith he placed in the club's former head of recruitment Steve Walsh, who brought in players such as Riyad Mahrez, Jamie Vardy and N'Golo Kante, all of whom starred in the title-winning season.
A rare interview
The family rarely spoke publicly, but in an interview with BBC sports editor Dan Roan in 2016, Srivaddhanaprabha's son, Aiyawatt, opened up on what the success had meant to them.
"Is it a miracle? It is. It is inspirational and people talk about it. We set the standard of the sport and inspiration for the whole world," he said.
"It is not just for the sport, it is life. If people use Leicester as the standard now, if they fight, they try – then they can achieve one day. Everything has to be right as well.
"It is a miracle for the city, it is a miracle for the players – but we have a job to do. They worked hard to be in this position. It is not just lucky."