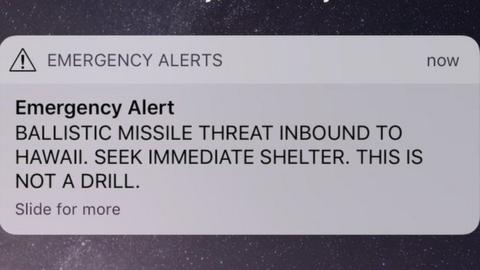 An alert, warning of an imminent ballistic missile strike, caused widespread panic and fear in Hawaii on Saturday.
Thankfully it turned out to be a false alarm – but the second message, confirming this, took 38 minutes to arrive.
Among those affected were players competing at the US PGA Hawaii Open in Honolulu.
There was the sheer terror…
…Relief…
…Anger….
…And eventually, humour:
The alert came amid growing concern over North Korea's missile and nuclear programme. Hawaii is the closest US state to North Korea.
In December, the state tested its nuclear warning siren for the first time since the end of the Cold War.
State Governor David Ige apologised to Hawaiians, saying an employee had pressed the wrong button.
The US government has announced a full investigation.