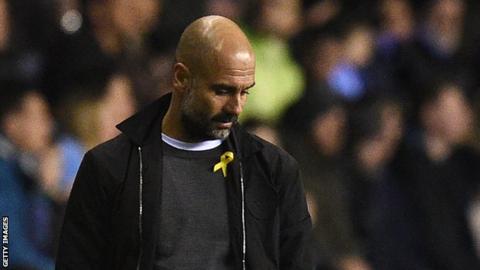 Manchester City manager Pep Guardiola has been charged by the Football Association for "wearing a political message, specifically a yellow ribbon".
He breached the FA's kit and advertising regulations, the governing body said.
Guardiola said in November he wears the ribbon to support imprisoned politicians in his native Catalonia.
The ex-Barcelona and Spain midfielder has until 18:00 GMT on Monday, 5 March to respond to the charge.
The FA had spoken to Guardiola about the issue in mid-December and two formal warnings have been given which were ignored.
The charge was then triggered when he again wore it pitchside – he is free to wear it elsewhere – during City's shock FA Cup loss against Wigan on Monday.
Two key members of the Catalan independence movement were held without bail after an independence vote in October, which the Madrid government deemed illegal.
Guardiola had said in November: "If one day in prison was already too much, look how many days they've been there now.
"Like everybody knows, hopefully sooner or later I can stop wearing it.
"All the politicians that are in prison, I hope they can leave and go back home soon with their families and continue living the lives they deserve."
Analysis
BBC Radio 5 live sports news correspondent Richard Conway
I understand the FA started speaking to Guardiola in December about the ribbon. The issue is wearing it pitchside, which they say is a breach of regulations.
Two formal warnings have been issued which he has essentially ignored. The charge was triggered when he wore it during the game against Wigan in the FA Cup.
I may be wrong… but I sense a major row is brewing over this.
Given the strength of Guardiola's convictions and the importance of the Catalan movement to him I don't sense he'll easily back down to "FA kit and advertising regulation A 4."
He is free to wear the yellow ribbon in the Uefa Champions League. Its rules say political symbols must be deemed offensive to trigger a breach of rules, which means he can wear ribbon on Tuesdays/Wednesdays but not Saturday.