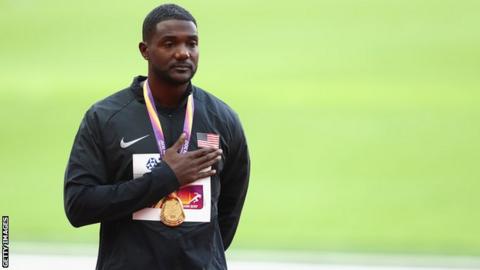 Athletics anti-doping officials have launched an investigation into what IAAF president Lord Coe called "serious allegations" about world champion sprinter Justin Gatlin's coach and an agent.
The Daily Telegraph said an agent linked to Gatlin, Robert Wagner, offered to "illicitly supply performance-enhancing drugs" to undercover reporters.
And it said Gatlin's coach, former Olympic gold medallist Dennis Mitchell, told reporters that athletes are able to get away with doping because the drugs they use cannot be detected by tests.
Both deny the allegations.
The paper said the journalists had posed as representatives of a film company wanting to make a sports film who were looking for a coach to train their star to look like an athlete.
The Athletics Integrity Unit (AIU) – set up by athletics world governing body the Iaaf – and the US Anti-Doping Agency (Usada), said they had opened an investigation into the claims.
"Investigations stemming from tips and whistleblowers play a critical role in anti-doping efforts," Usada said in a statement. "We are presently coordinating with the Athletics Integrity Unit in order to investigate these claims fully.
"As with all investigations, we encourage individuals with information to come forward as an important tool to help protect clean athletes. Importantly, individuals are innocent unless and until the established process determines otherwise. It's only fair to let due process occur before jumping to any conclusions."
Lord Coe said: "These allegations are extremely serious and I know the independent Athletics Integrity Unit will investigate in accordance with its mandate."
American Gatlin, 35, who has served two doping bans, won 100m gold at August's World Championships in London, beating Usain Bolt in the Jamaican's final individual 100m race before retiring.
Gatlin's legal representatives said the sprinter had sacked Mitchell and said he had more than five years' worth of official drugs tests to show "he has never tested positive for any banned substance", the paper reported.
In a statement to the Daily Telegraph, Mitchell said: "I never suggested in any way that any of my current athletes used any banned substances or that I was familiar with training any of my current athletes with those substances."
Wagner told the paper: "I wasn't involved in doping. Obviously I played along because I knew what was going on. I had to get them hooked."