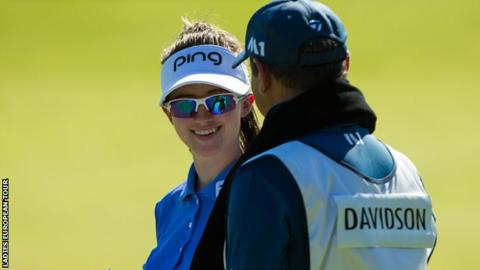 Scotland-born Karis Davidson hopes that finishing second in her first Tour start as a professional indicates she will have a long career in golf.
The 19-year-old went from a £170 pay day to a runners-up cheque for £30,000 at the Oates Vic Open within a week.
Davidson finished five strokes behind Minjee Lee in Australia.
"It is a great start, but I've just got to keep my feet on the ground and I've got a big year up ahead and hopefully a career-long of golf," she said.
"It's a bit crazy. I am really happy. It was my first tournament.
"I played in a pro-am last week and that was 300 dollars, so it is a big jump up to 58,000."
Davidson, born in Melrose but who left Scotland with her parents 10 years ago, is now based in Queensland and has represented Australia at the World Amateur Team Championships and Queen Sirikit Cup.
She decided to turn professional after coming through the Japan LPGA qualifying school in December and went into the final day of the Oates Vic Open one stroke behind Lee following a six-under par 67 in the third round.
However, 21-year-old Lee, who triumphed as a 17-year-old amateur in 2014, matched that score in the final round to win the tournament for the second time as the Scot shot 71.
"I just tried to prepare myself that there would be a lot of people watching because Minjee is out here and Hannah is pretty popular as well," said Davidson after the tournament co-sanctioned by the Ladies European Tour and Australian Ladies Professional Golf.
"But in a lot of shots I felt my heart going fast and it was a really good feeling.
"This is where I want to be. I did quite well in some amateur competitions and that helped me keep calm.
"I just tried to stay happy all day even if there were a few putts out there that didn't want to go in."
Asked what she would do with her first major winnings, Davidson replied: "Keep it."