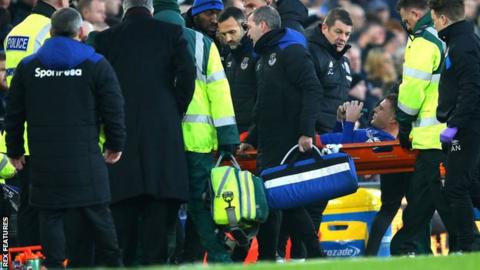 Everton midfielder James McCarthy will miss the rest of the season after suffering a double leg fracture in Saturday's 1-1 draw with West Brom.
The 27-year-old was taken off on a stretcher after a tackle on Albion's Salomon Rondon in the second half.
"It's a tibia and fibula fracture compounded. A very nasty injury," said Everton boss Sam Allardyce.
Rondon was distraught after seeing the injury to McCarthy, who hurt himself as he prevented the forward from shooting.
Neither player was at fault in what was an accidental collision.
Republic of Ireland international McCarthy had returned from an injury lay-off at the end of December and this was only his third league game of the season.
"We had just worked hard to get him back to fitness. It's a loss to us until the end of the season – it happens in the game of football but not often that severe," added Allardyce.
Striker Rondon was "absolutely devastated" by McCarthy's injury.
"I feel really sorry for James," the Venezuela international said.
"Even if the move had resulted in a goal, I would have preferred not to score if it meant an opponent avoided suffering such a terrible injury.
"I wish James a speedy recovery and hope to see him back playing again soon."
Describing Rondon's emotional reaction to the injury, Albion boss Alan Pardew said: "I saw his reaction straight away. He must've heard something – sometimes it does really affect you and it did it take us a while to get him round and focused again.
"Our thoughts go with James and we wish a speedy recovery to him."