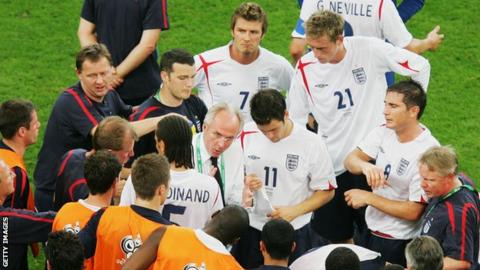 England will face problems with fatigue at the World Cup in Russia, says former manager Sven-Goran Eriksson.
Eriksson, who led England to three major tournaments, regularly called for the Premier League to have a winter break during his five years in charge.
Asked if tiredness would be problem in Russia, he said: "I'm sure. I guess England managers before me and for sure after me always had the same problem.
"I hope I'm wrong, but I think Gareth Southgate will face that problem too."
All of England's 23-man squad have spent the past season playing in the Premier League, which, in contrast to the top flights of Spain, Germany, Italy and France, does not pause for a spell during the winter.
Speaking to BBC Sport, Swede Eriksson, England's first foreign manager, added: "If you play in the Premier League, you play a lot of games.
"There are two big domestic cups, most England players play in Europe and the league is tough. That's OK, but the big problem is not having a break.
"That's the biggest reason why England struggle to make a big impact in big tournaments."
In February, it was revealed that the Premier League is looking at a way to introduce a winter break from 2020 onwards.
"Congratulations to the Premier League if that is the case," said Eriksson. "This should have started 20 years ago."
Southgate has a 'good squad'
Eriksson, who took England to the quarter-finals of the World Cup in 2002 and 2006, as well as the last eight of the 2004 European Championship, said Southgate has picked a "good squad".
Southgate, in charge of England at a major tournament for the first time, has included uncapped Liverpool defender Trent Alexander-Arnold and Crystal Palace midfielder Ruben Loftus-Cheek, but there is no room for Arsenal's Jack Wilshere.
Experienced goalkeeper Joe Hart misses out in favour of Jordan Pickford, Jack Butland and Nick Pope.
"I like the squad," said Eriksson. "There are a lot of young players, hungry players that want to show what they can do.
"I like the strikers because they can do things on their own, they have pace and they can score goals. I'm very curious to see how they will do. On the counter-attack, having those players available can be very, very dangerous.
"I hope they can go further than I did and reach a semi-final. If so, everything is possible. I hope for Southgate and the players, but especially for the country and the fans. It would be great for them to have a team going further than the quarter-finals."
'We failed in 2006'
Eriksson's England were beaten by eventual winners Brazil at the 2002 World Cup and lost on penalties to hosts Portugal at Euro 2004.
While he thinks they were "not ready" to win in 2002 and "unlucky" in 2004, the 70-year-old says he has regrets over the 2006 World Cup in Germany, where England were again eliminated by Portugal in a shootout.
"Where we failed was 2006," he said. "I was sure we should have reached a semi-final or the final. I thought we could have won it.
"Before and during the tournament, even today, I don't think any of the teams were better than us. I think there was the same feeling amongst the players."
The team that reached the last eight 12 years ago was part of the "golden generation" and included David Beckham, Steven Gerrard, Frank Lampard, Rio Ferdinand and Wayne Rooney.
Since then, England have not gone past the second round of a major tournament and Eriksson believes the subsequent lowering of expectations will help Southgate's men in Russia.
"We should have done better there," Eriksson added. "Italy won it, but they started the tournament awfully. They were not good at all. That was our fault. We missed it.
"At that time it was not good enough just to reach a quarter-final, because of the expectation. Today, most England fans would be happy to reach a quarter-final, which is good for the national team.
"When England leave for Russia, I don't think anyone will be saying they are going to win the World Cup. Of course they have the chance to win, but I don't think the expectation and pressure is there."
'Like being the prime minister'
During his spell as England boss, Eriksson attracted plenty of media attention, with particular scrutiny of his private life.
Reflecting on his time in charge, he said that managing England was a "great" job, but on occasions the media intrusion was "too much".
"Before I signed, I knew it was a huge job. After a while, I realised it was even bigger than I thought," he said.
"I didn't expect that whatever I said, whatever I did or wherever I was would be important, sometimes for the wrong reasons. I was a football manager. It was difficult to accept that my private life would be important to people.
"Once, when I was still England manager, I came back to Sweden. The lake and woods outside my home were full of paparazzi. After I finished as England manager, there has never been the paparazzi here.
"The job brings you close to what it must be like to be the prime minister or a member of the royal family. It's great, but sometimes too much."