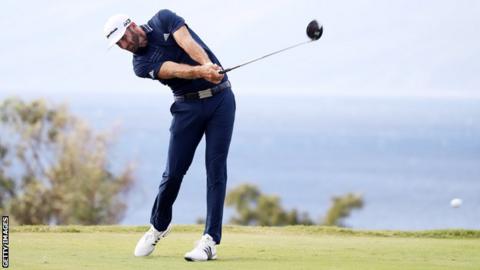 World number one Dustin Johnson says there is no need to limit how far golf balls fly because nobody "is making the game too easy".
Tiger Woods said last month players are hitting the ball "way too long" and a leading American golf official said the impact had been "horrible".
Johnson, 33, only trailed Rory McIlroy in last year's PGA Tour driving charts with an average of 315 yards.
"It's not like we are dominating golf courses," the American told BBC Sport.
"When was the last time you saw someone make the game too easy? I don't really understand what all the debate is about because it doesn't matter how far it goes; it is about getting it in the hole."
With 43 players driving an average distance of more than 300 yards last season, there have been some calls to alter the specification of balls to limit how far they fly.
Mike Davis, executive director of the United States Golf Association, recently told the Wall Street Journal: "The reality is this is affecting all golfers and affecting them in a bad way.
"These courses are expanding and are predicted to continue to expand. All it's doing is increasing the cost of the game. The impact it has had has been horrible."
It has been suggested that the sport's rule-makers, the USGA and the Royal and Ancient, are considering changes, but Johnson is unconcerned.
"Whatever they decide to do it doesn't really matter," said Johnson, who hit a 433-yard drive to within six inches of the hole on the par-four 12th at the Tournament of Champions in Hawaii last week.
"There was a lot of luck in that," he insisted. "There were a number of other factors involved, a 30 miles per hour wind behind me, downhill, firm fairway. I mean normally I can't hit that ball that far.
"If the ball is limited then it is going to limit everyone. I'm still going to hit it that much further than I guess the average tour player.
"But who knows? I don't know how they would do it or what they would do or how long it would take them to be able to do it. It's not really a debate for me."
Analysis
Given the advances in player athleticism and modern equipment there is no doubt many courses are no longer being played as their designers intended. Layouts are being lengthened, rough is being grown and greens are lightning fast to provide some form of defence, but there is a growing feeling that distance is out of hand.
We are not far from championship courses measuring more than 8,000 yards and the requisite extra acreage is expensive to acquire and maintain.
Johnson is correct to say that big hitters would still hold an advantage if alterations are made to ball specifications. The big question is whether changes are made to only the professional game allowing amateurs to continue to enjoy the extra yardage afforded by modern equipment.
This bifurcation would be a significant break for a game that prides itself on being played under the same rules for top pros as for humble hackers.