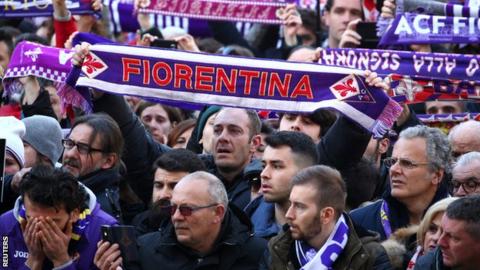 Thousands of fans and representatives of every Serie A club have gathered in Florence for the funeral of Fiorentina captain Davide Astori.
The Italy international defender died at the age of 31 on Sunday after a sudden illness.
Members of the Juventus squad that beat Tottenham on Wednesday night were in attendance, including Italy's national team captain Gianluigi Buffon.
Astori will be buried in Bergamo, where he grew up and his parents still live.
'Oh captain, my captain' – Saponara's tribute
Fiorentina and Cagliari retire shirt 13
'The son and brother we'd all like to have'
Astori leaves a wife and a two-year-old daughter.
Audio of the service was broadcast to the thousands outside the church, many of whom were in tears.
"You were the son and the brother that everyone would like to have," Fiorentina's vice captain Milan Badelj said. "Your parents didn't put a foot wrong with you, Davide."
Badelj said that everyone who remembered Astori would tell his two-year daughter Vittoria that he had been a man with a capital 'M'.
"He has always been and will always be a Florentine," said the city's archbishop, Cardinal Giuseppe Betori.
The crowd chanted "There's only one captain" as Astori was carried out of the church after the service.
Florence's city government declared Thursday a day of mourning, with schools and businesses asked to observe one minute's silence at 12:00 GMT.
Juventus defender Giorgio Chiellini, who was in tears during a minute's silence for Astori at Wembley on Wednesday night, was in attendance along with team-mates and manager Massimiliano Allegri.
Speaking after Juve's Champions League victory, Chiellini said: "We dedicate the win to him. He is on our minds on this day.
"I cried many times. He was a fantastic player. It was very difficult during the match because we had to think of the game and the outcome, and it's not easy. But he's always in our heart."
Another of Astori's former sides, AC Milan, played later on Thursday when they hosted Arsenal in the Europa League. A minute's silence was observed before the fixture.