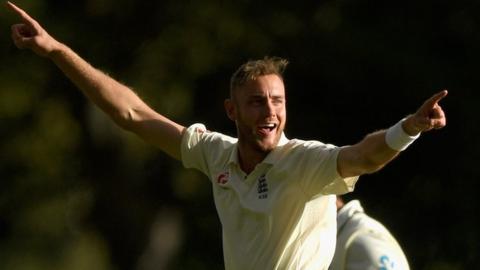 England cricketer Stuart Broad is a talented guy.
He's England's second leading Test wicket-taker of all time, a dab-hand on the golf course and he is currently the top football manager in the world… well, sort of!
We say that because Broad is leading the Fantasy Premier League's table for the week, scoring 169 points, which means the Nottingham Forest fan is beating almost six million other players as it stands.
The International Cricket Council (ICC) quickly pointed out the score matched his highest ever Test runs haul, which he registered when England faced Pakistan at Lord's in 2010.
Ironically, his next Test for England is against Pakistan at Lord's on 24 May. Same again?
But where does it rank in Broad's list of sporting achievements? Highly, it would seem…
"I enjoyed 8-15 in the Ashes but leading gameweek 37 in Fantasy Football runs it close as a sporting achievement!" the Notts bowler, 31, said on Instagram.
It's not all done and dusted, mind, since the gameweek only closes when the final whistle goes in Thursday night's game between Manchester United and West Ham.
Broad has interest in that game in the form of goalkeeper Adrian, who could earn him more points since the cricketer has played his bench boost.
No pressure, Adrian, but there's a Premier League goodie bag on the line tonight…
Broad's team: Ben Foster (West Brom), Jan Vertonghen (Tottenham), Marcos Alonso (Chelsea), Hector Bellerin (Arsenal), Jack Cork (Burnley), Leroy Sane (Man City), Raheem Sterling (Man City), Pascal Gross (Brighton), Pierre-Emerick Aubameyang (Arsenal), Olivier Giroud (Chelsea), Glenn Murray (Brighton). Subs: Adrian (West Ham), Ahmed Hegazi (West Brom), Abdoulaye Doucoure (Watford), Kyle Walker (Man City).