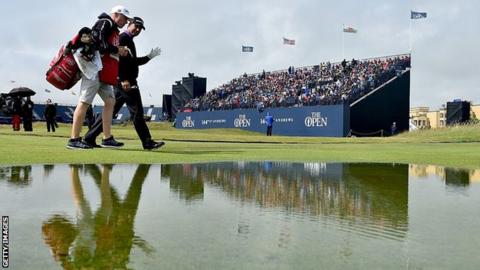 Open Championship venues such as St Andrews and Royal Troon could be under water by the end of the century if sea levels rise even slightly as a result of climate change, according to a new report.
The Climate Coalition says golf, football and cricket face an "unexpected threat", with cricket to be the "hardest hit".
The report predicts "cancelled football matches, flooded cricket grounds and golf courses crumbling into the sea".
It adds that rising winter temperatures mean the Scottish skiing industry could collapse within 50 years.
The report says six of the UK's seven wettest years on record have occurred since 2000, with cricket's County Championship already losing thousands of overs every season.
"Climate change is already impacting our ability to play and watch the sports we love," said the report, adding that extreme weather is a factor in declining participation and lost revenue.
'We could lose 5-10 metres in a couple of days'
The report says "only a small increase in sea-level rise would imperil all of the world's links courses before the end of the century".
The Open is the only one of golf's majors played in the UK and is hosted on links courses, including – as well at St Andrews and Royal Troon – Royal Birkdale, Hoylake, Royal Lytham St Annes, Muirfield, Sandwich, Turnberry, Portrush and 2018 venue Carnoustie.
The reports adds that "more than 450 years of golfing history" at Montrose, one of the five oldest courses in the world, is at risk of being washed away by rising seas and coastal erosion linked to climate change.
Research published by Dundee University in 2016 showed the North Sea has crept 70 metres towards Montrose within the past 30 years.
Chris Curnin, director at Montrose Golf Links, said: "As the sea rises and the coast falls away, we're left with nowhere to go. Climate change is often seen as tomorrow's problem – but it's already eating away at our course.
"In a perfect storm we could lose 5-10 metres over just a couple of days and that could happen at pretty much any point."
The report suggests there was as much as 20% less playing time for courses across the greater Glasgow area in 2016-17 compared to 10 years earlier.
"It is a fact that increased rainfall and extreme events are causing more disruption in recreational golf," says Richard Windows of the Sports Turf Research Institute (STRI).
Steve Isaac, director of sustainability for the RA, golf's governing body outside the United States and Mexico, agrees the "future threats are very real" for the sport.
'Grassroots football in decline'
The report states "increased rainfall and more extreme weather events associated with climate change may be a defining factor in the viability of grassroots football".
It adds that:
Grassroots clubs lose five weeks per season to bad weather;
More than a third lose two to three months;
84% of those highlight facilities as the most pressing issue facing grassroots game;
Sport England reported a 180,000 drop over 10 years in people playing weekly;
25 Football League fixtures postponed during 2015-16 season.
In December 2015, Carlisle United's Brunton Park was hit by Storm Desmond, forcing the League One club out of their ground for 49 days at a reported cost of nearly £200,000.
"Climate modelling has found that climate change made this storm 59% more likely," said Kate Sambrook, from the Priestley International Centre for Climate.
In the same season, grassroots club Bromley Heath United were unable to play matches for 12 weeks because of unsuitable pitches.
Longer term, the Football Association will invest £48m in hundreds of new all-weather and specially adapted turf pitches across the country, including new dedicated facilities in 30 cities, in addition to upgrading more than 200 existing pitches nationwide.
Cricket struggles to be 'commercially viable'
According to the Climate Coalition report, cricket will be "hardest hit" by climate change out of all the major pitch sports, with more rain resulting in more delays and abandonments.
Cardiff-based club Glamorgan have lost 1,300 hours of cricket since 2000 as a result of extreme weather and rainfall.
"Losing so much cricket is a county's worst nightmare – it affects the club at every level," said Glamorgan head of operations Dan Cherry. "It's difficult even for first-class counties to be commercially viable with such an impact.
"T20 Blast is a great way to get new people through the gates and into cricket – but they won't come back if this keeps happening and it's damaged the club to the tune of £1m."
More than a quarter (27%) of England's home one-day international since 2000 have seen reduced overs because of rain disruptions, while the rate of rain-affected matches has more than doubled since 2011.
The England and Wales Cricket Board (ECB) spent £1m in emergency grants in 2016 and £1.6m in 2017 to support clubs and restore their facilities and have set aside £2.5m a year for small grants to help club sides keep matches on.
There is the risk that increasingly disrupted cricket will lead to people no longer getting involved in the sport. According to the report, nearly 40,000 fewer people played cricket in 2015-16 than in 2005-06, a fall of almost 20%.
"There is clear evidence that climate change has had a huge impact on the game in the form of general wet weather and extreme weather events," said ECB national participation manager Dan Musson.
'Resorts reliant on artificial snow'
The Scottish skiing industry could collapse within 50 years as rising temperatures during the winter prevent regular snowfall, according to a Met Office warning referenced by the Climate Coalition.
The report states three of Scotland's main resorts are spending "more than half" their operating budgets on artificial snow factories after a tough 2016-17 season.
Expert predictions suggest an increase of between 2C and 4C and a 60% reduction in Scottish snowfall by the 2080s.
The Alps are also predicted to see a 2C-4C increase and a drop in snowfall of between 70-100% at elevations below 1500m in that time.
What can sports do about it?
The report warns the impacts of climate change will worsen unless governing bodies, clubs and participants work to reduce their emissions and environmental impact.
Both Manchester City and Manchester United created nature reserves at their training grounds. Meanwhile, the report higlhighted that:
United also collect and recycle rainwater to irrigate and maintain the pitch at Old Trafford;
The RA introduced an initiative to encourage golf events to be more environmentally friendly;
Lord's cricket ground has led the way in introducing sustainability measures, and most major grounds have followed the example.
Analysis
BBC golf correspondent Iain Carter
These findings should cause great concern among golf's authorities. The game was founded on the links turf of the British seaside and provides golf in its most authentic form – as well as sums in excess of £75m to local economies on an annual basis.
But the sport has recognised its precarious position at the hands of mother nature, with a number of green initiatives adopted in recent years.
This report might also impact on discussions aimed at limiting driving distances because it highlights potential dangers in the maintaining the current trend of lengthening golf courses.